Internals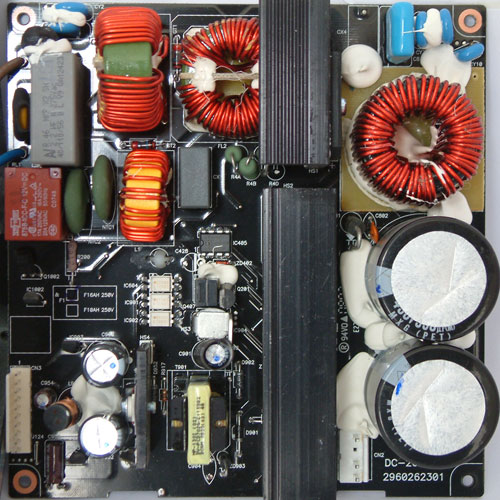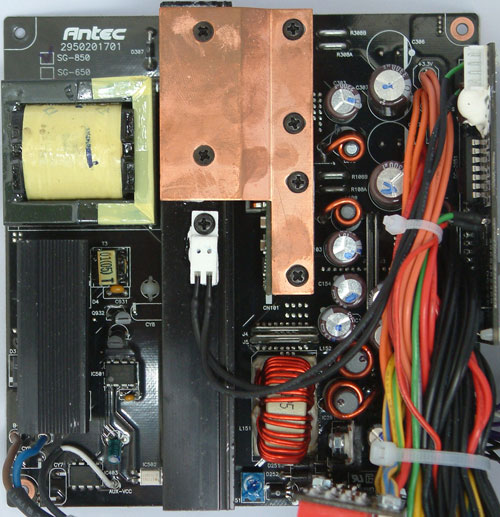 Opening this unit is easier than we thought. There are six screws to remove, after which you just lift up the top plate. You will be greeted with a view of the backside of the PCB that holds the filtering stage and the primary side of the power supply. A few connections need to be disconnected and then you can remove the first section. The whole power supply can now slide open, which removes both the sides and the rear. The upper part that contains the primary side is fixed to the rear, which holds the jack for the power cord. The transformer and secondary side are located on the second PCB, which can be easily disconnected as all of the fixed wires go through the little opening in the side.
The filtering stage is packed, leaving no room for additional parts. In the upper picture on the left bottom side, we can also see the additional circuit to create the 5Vsb voltage. The primary side features two bulky main capacitors made by Rubycon. Both are rated with 390µF and 450V at a high temperature of 105°C, which is rare these days. Right after the caps one can see the connection that leads to the second PCB.
On the second PCB, we find the transformer in the top corner. Right on top of the large heatsink in the middle there is a temperature diode that will be responsible for the fan speed through the fan control unit. There are Nippon Chemi-Con capacitors all over the secondary side. Under the small copper plate we find the two VRM that are responsible for the 3.3V and 5V rails. Pushing all the cables aside, we found another UL number that leads us to a company called Jiangmen Glory Faith PCB Co. Ltd., the manufacturer of the PCBs.