Introduction
We saw the Signature series for the first time at CES 2008 in Antec's suite, and some of the details caught our attention. We were shown a dual-layered power supply with a PWM controlled fan and a DC-to-DC conversion for the lower voltage rails such as 3.3V and 5V. A few weeks ago, Antec sent us a message saying that we would be getting the first unit of this power supply to test. Hot off the production line, it finally arrived this week.
Antec is perhaps better known for their cases, which have some very nice acoustic and design concepts and are built for midrange to high-end enthusiasts. With the Signature series, Antec wants to leave its mark on the PSU market and enhance their reputation for quality power. Antec took a long time to develop this power supply and it will form, with the TruePower Quattro series, the arrowhead of Antec's line-up of power supplies. There are currently 650W and 850W versions in this series, and we will review the larger one today. The 650W version will also be of interest to the market as 650W units are mostly used for the midrange PCs that dominate the market in terms of volume.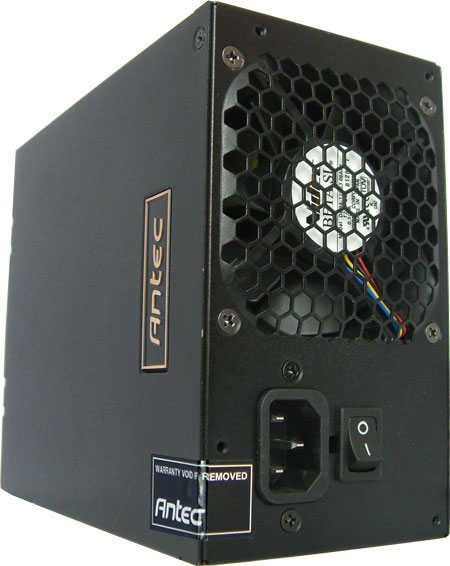 As stated by Antec we will find voltage regulator modules (VRM) inside this power supply that are DC-to-DC converters. This means we will only get the 12V from the transformer and the lower voltage rails are generated by the VRM. Advantages as stated by Antec are short transient response times within the power supply. Furthermore, Antec includes a PWM controlled fan that has the advantage of being able to run at only 10-15% of its normal rated top speed. We will see later that this results in very low fan speeds and therefore low acoustic noises. According to Antec, all of the capacitors are of Japanese make, which is an indication of high quality and performance. The Antec Signature series received the 80plus Bronze certification which means we can expect very high efficiency from these units.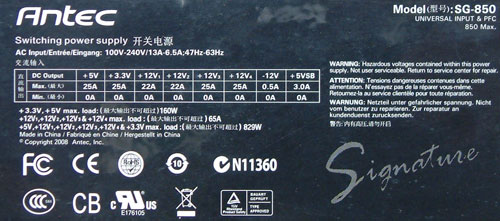 The label shows 25A on the 3.3V and 5V rails, which will be fine with modern systems. The max combined power of these two rails is 160W. There are four 12V rails, two rated at 22A and two with 25A on tap. We take it that the last two rails are specifically there for the graphics cards as the spec sheet says something about a maximum usage of 300W from each card. The combined power of all the 12V rails together is 65A, which equals 780W of power. The UL number gives us Antec as the manufacturer, but we later found another UL number hidden inside the power supply that indicates the real manufacturer of the PCBs.