Dell 2408WFP Evaluation
Looking at the OSD, the 2408WFP again follows in the footsteps of the 2407WFP. It comes with seven color presets, which can be further modified by selecting "graphics" or "video". PC and Mac gamma settings are also available. Picture-in-picture (PIP) is also available, provided one of the inputs is an analog connection.
You can see the various options available in the menu system in the above gallery. In terms of OSD buttons, we prefer Dell's approach to any of the other LCDs we've tested. Some people like "cloaked" touch-sensitive buttons, but we feel they tend to be less precise. Noteworthy items include DDC/CI support that can be used with calibration software and the options for aspect ratio control. This happens to be the first LCD we've tested that we were able to calibrate using DDC mode in ColorEyes Display Pro -- not that the results were significantly better, but it was nice to be able to input target values and have the software do the "dirty work" for us. About the only option that's missing is the ability to move the OSD away from center. (It can interfere with color calibration if you activate it with a colorimeter at the center of the LCD.)
For aspect ratio control, Dell provides three options: 1:1, Aspect, and Fill. Similar to the ASUS MK241H, "Fill" stretches whatever resolution you're running to fill the whole screen and "1:1" is a direct-mapped mode without any stretching, leaving black bars on all sides (depending on what resolution you're running). "Aspect" is a proportional stretch mode that maintains the resolution aspect ratio, so for example 1024x768 ends up filling 1600x1200 pixels (as do all other 4:3 aspect ratio resolutions) and 1280x1024 ends up filling 1500x1200. Here's a summary of our resolution testing:
Dell 2408WFP Resolution and Input Notes
Component
DVI
HDMI
VGA
800x600
Yes
Yes
Yes
1024x768
Yes
Yes
Yes
1152x864
Yes
Yes
Yes
1176x664
Underscanned 720P
-
Underscanned 720P
-
1280x720
Overscans (no way to disable)
Yes
Yes
Yes
1280x768
-
Wrong AR (1280x1024); Use "Full" scaling
Yes
1280x800
Wrong AR (1280x1024); Use "Full" scaling
Wrong AR (1280x1024); Use "Full" scaling
Yes
1280x960
-
Wrong AR (1280x1024)
Yes
1280x1024
Yes
Yes
Yes
1400x1050
-
Wrong AR (1920x1080)
-
1440x900
Wrong AR (1600x1200); Use "Full" scaling
Wrong AR (1920x1080); Use "Full" scaling
Yes
1600x1200
Yes
Yes
Yes
1680x1050
Always fills LCD ("Full")
Wrong AR (1920x1080); Use "Full" scaling
Yes
1768x992
Underscanned 1080i
-
Underscanned 1080P
-
1920x1080
Overscans (no way to disable)
Yes
Yes
Yes
1920x1200
-
Yes
Yes
Yes
Most of the tested resolutions more or less work properly on any of the three main computer inputs. VGA mode performs flawlessly, while on DVI and HDMI inputs some of the widescreen resolutions require you to manually select "Fill". If you want a 1:1 image, a few resolutions have problems on DVI and most of the lower widescreen resolutions fail to work in this mode. As with all LCDs, there's an "auto adjust" function that executes when you change resolutions while using an analog input (i.e. VGA). This function works as expected and takes a couple seconds to execute; it apparently remembers the last 10 resolutions you've used; otherwise, the auto adjustment runs again.
Component input is rather disappointing, as 720P and 1080I both have ~10% overscan; using a PC, you can output 1176x664 or 1768x992 to avoid this, but if you're using a computer you will probably want to use one of the other input options. Even then you still end up with a black bar on the right. The 30Hz HDMI modes all overscan as well (1280x720, 1400x1040, 1440x900, 1680x1050, and 1920x1080) and show scaling/de-interlacing artifacts; in other words, don't use them if you can avoid it. Overall, 1080I seems better than 720P on the component video connection, so if you plan to connect the LCD up to a component video source, we would run 1080I.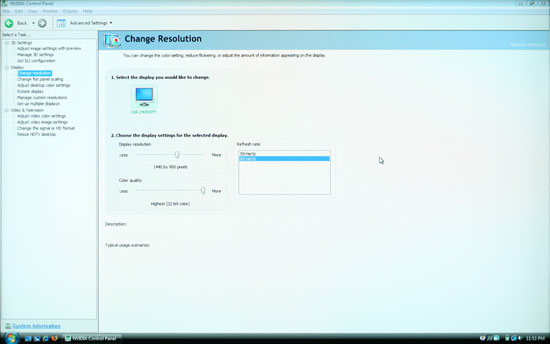 As you can see in the above image, scaling artifacts from over resolutions are not a serious problem. Running at the native resolution is definitely preferred, but if you happen to run a game at a lower resolution you should be fine. Connecting a gaming console to any of the inputs should also work well, but keep in mind the aspect ratio comments from above.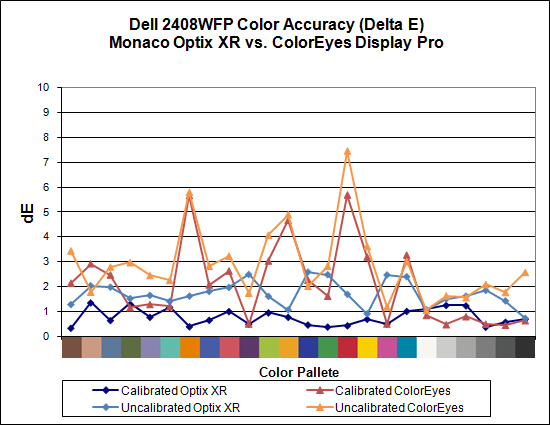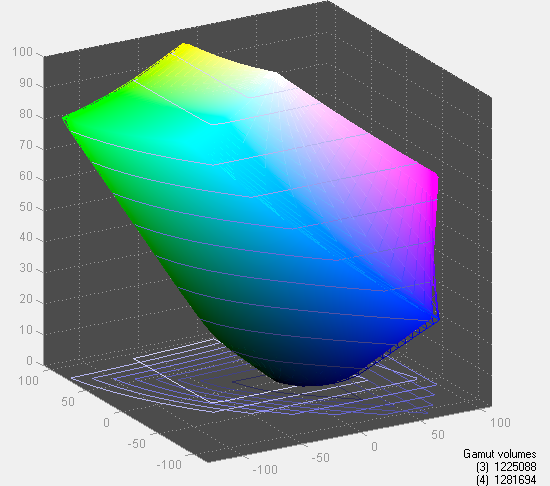 Taking a quick look at color accuracy and gamut, the overall color accuracy is exceptional. If you look at the above results, you might not believe that we were able to achieve a Delta E of only 1.7 without calibration! Yes, that's right: without hardware calibration, the Dell 2408WFP can surpass many other LCDs with hardware calibration. Just to be clear, we set the brightness and contrast to 50, selected the custom color profile, and dropped the RGB settings to 80; otherwise, the default settings tend to be quite bright. After calibration, scores further improve to an extremely low 0.78 average. The highest Delta E after calibration is only 1.31. Color gamut is also exceptional, and this is the only display we've tested so far that achieves better than 100% of the Adobe RGB 1998 standard.
Simply put the colors and color accuracy of the Dell 2408WFP absolutely blew us away. If you're an imaging professional and you're using Windows (we have heard there can be some issues with high gamut LCDs under Mac OS X, particularly with the Safari web browser), this is the best LCD we've tested so far. Perhaps more surprising is the fact that you can pick it up for only $600 (at least with the current sale -- MSRP is usually $700). Top that off with a 3-year manufacturer warranty and you've got a delicious LCD soup ready to serve up. The only fly in the ointment is the aforementioned input lag, which could present problems if your primary computer applications or games and your reflexes are so honed that you can notice the ~30ms lag. If that's the case, you'll probably need to compromise on image quality and pick up a TN panel LCD.