Dell 2408WFP Specifications and Appearance
Dell 2408WFP Specifications
Video Inputs
2 x DVI with HDCP support
HDMI
DisplayPort
Analog (VGA)
Component
S-Video
Composite
Panel Type
S-PVA (DELA02A)
Pixel Pitch
0.270mm
Colors
16.7 million (8-bit)
110% color gamut
Brightness
400 cd/m2
Contrast Ratio
Up to 3000:1 Dynamic
Response Time
6ms GTG
Viewable Size
24" diagonal
Resolution
1920x1200
Viewing Angle
178 vertical/horizontal
Power Consumption
<130W max stated
90W max, 45W min measured
Power Savings
<2W
Screen Treatment
Matte anti-glare (non-glossy)
Height-Adjustable
Yes - 3.9 inches
Tilt
Yes - 21 degrees back/3 degrees forward
Pivot
Yes
Swivel
Yes - 45 degrees left/right
VESA Wall Mounting
100mm x 100mm
Dimensions w/ Base (WxHxD)
22.04" x 15.62" x 8.17" lowered (WxHxD)
22.04" x 19.56" x 8.17" raised (WxHxD)
Weight w/ Stand
21.74 lbs.
Additional Features
(2) USB 2.0 - left, (2) USB 2.0 - back
9-in-2 Flash reader
(USB connection to PC required)
Audio
Audio out
Optional speaker bar
Limited Warranty
3-year parts and labor (when purchased from Dell)
4-year ($39) and 5-year ($59) optional upgrades from Dell
Price
MSRP $699
Online starting at ~$580
The Dell 2408WFP follows in the footsteps of Dell's successful 24" LCD line. The 2405FPW was one of the first 24" LCDs to hit the market, and early adopters loved it. The 2407WFP changed the appearance slightly and added a few extra features like HDCP support, while the 2407WFP-HC offered an improved color gamut. The 2408WFP looks nearly identical to the 2407WFP, but it improves the color gamut again -- this time to 110% -- and it also adds additional input options. It has two DVI inputs, and HDMI input, and it's one of the few current LCDs to support DisplayPort. (As we did not have an appropriate graphics card, we were not able to test the DisplayPort input.)
Besides the improved color gamut and the additional inputs, very little has changed relative to the 2407WFP. That's not a bad thing however, is that remains one of the better LCDs on the market. In the features department, you get a fully functional base stand with pivot, swivel, and height adjustment. You also get a 9-in-2 flash reader and four USB ports. Our only complaint with the stand is that even at maximum height it can be a bit difficult to pivot the LCD into portrait mode; you'll need to tilt the LCD all the way back before you can properly pivot the panel. As far as complaints go, that's a truly minor nitpick.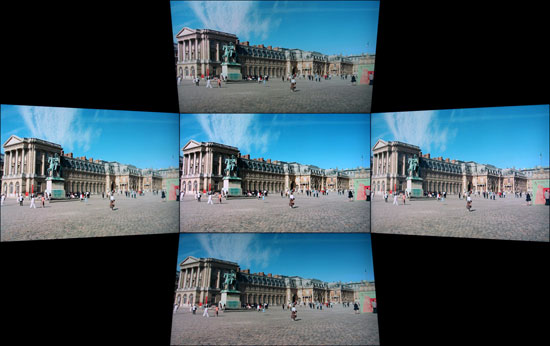 Like the previous Dell 24" LCDs, the 2408WFP uses an S-PVA panel. That means you get all of the good features like better viewing angles and reasonable response times. However, as we'll see later, the S-PVA panels also seem to suffer from input lag -- more so than any other panel type. Whether that's something inherent in the technology were simply a delay caused by the video processing engine, we can't say for sure, and we were never really bothered by the input lag. More demanding gamers however might be put off, as there appears to be a 2-3 frame lag.
In our subjective opinion, Dell's LCDs continue to be some of the most attractive offerings on the market. Some people like glossy panels or bezels; we prefer a matte finish that won't immediately pick up fingerprints. Again, outside of the changes to the connections on the back of the LCD, the 2408WFP looks identical to the 2407WFP.