I've spent the past few months documenting much of the physical construction of my home theater, but now I'm finally able to get to the AnandTech tie-in: building the HTPC.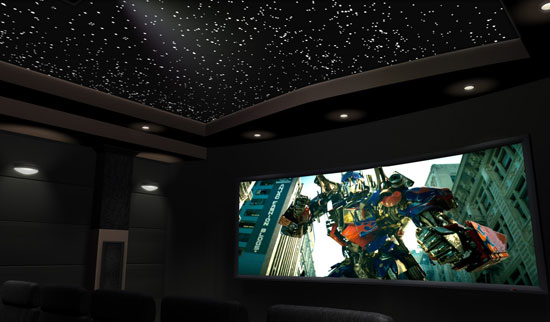 The theater needs a computer
You don't have to guess that I view the PC as the center of the digital home, it's the best home for media in my opinion and it continues to deliver the most responsive user experience. While the idea of a PC (or PC-like device) in every room of your house isn't quite as fleshed out as I'd like it to be, a Home Theater PC (HTPC) is easily a reality today.
I decided early on in the theater project that I didn't want to fumble with discs, I wanted all of my movie content stored on a computer and I wanted to be able to browse it via any internet enabled device. Many high end home theaters feature a large touchscreen to control all aspects of the theater and automation, but rather than spending tons of money on a crappy touch interface I wanted to have the whole thing controlled via an iPhone (or optionally, any other web enabled device). The vision is that you'll be able to be anywhere in the house, go to a webpage, browse my listing of movies and hit a button that will prepare the theater for you (lights dim to the appropriate level, masking system/lens adjust to the aspect ratio of the movie, etc...), then all you have to do is walk in and start watching. The software side will take quite a while to implement, mostly because it requires a working theater which I don't have at this point. The other thing it does require is a HTPC, and that's what I've been tinkering with for the past few weeks.
I half heartedly built a HTPC to play around with several weeks ago. I had a Thermaltake Armor case leftover from the AMD Quad FX launch and I threw a Gigabyte X38 board in there, along with an early Yorkfield (45nm, quad core, Penryn) and a Radeon HD 3870. The case was big enough that I could toss in 6 of the 8 1TB drives I'd planned on using for the final build; I'm not sure exactly why I even bothered, I guess I just wanted to see such a huge array under Vista.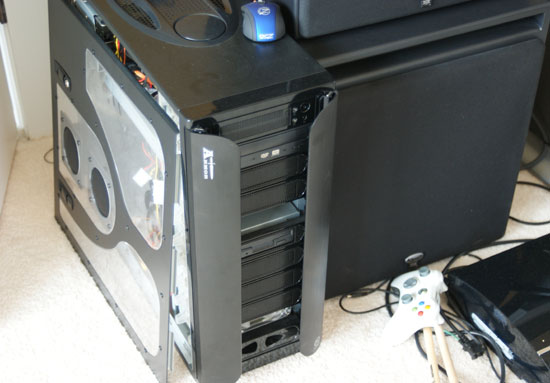 The first HTPC, it wasn't very good.
Needless to say the first HTPC build was far from a HTPC, it was simply a PC that I put next to my TV. I watched two movies on it, it worked as expected, but it was far too loud since I hadn't done anything to ensure silence.