It is time to introduce the fine print and disclaimers when using these boards with a Phenom 9850BE. As a recap, the critical aspect of running a 9850BE at stock speeds on current 780G products centers on the cooling of the PWM circuitry. Each and every manufacturer along with AMD agreed that cooling the MOSFETS properly was critical to the successful operation of the board at stock or overclocked speeds with the 9850BE - and to some degree, the 6400+ X2. This is based on the board manufacturer utilizing a properly developed power delivery system that is designed to handle the 125W TDP processors and in the future, the upcoming 140W TDP Phenoms.
We still do not think the majority of users who purchase these boards will end up installing AMD's top of the line CPU. Personally, we would not install a Phenom 9850BE or 9750 retail unit in these boards considering the vast majority of applications these boards will see can get by fine on an Athlon 4850e or Phenom 8450. However, for those who wish to continue down this path we have a few suggestions.
Everyone probably knows the old saying about the three rules of real estate, location – location – location. It holds true with our board samples only replace location with airflow. We found additional airflow around the PWM/MOSFET area was critical when utilizing the stock retail fan/heatsink in our Silverstone SG03 case. We installed a secondary 120mm fan that provided enough airflow over the board to ensure stable operation under our load scenarios. While that was acceptable for the most part, it did increase noise levels a little more than we expected. In the end, we ended up replacing the stock case fan with one that offered slightly higher airflow with only a small penalty in acoustic levels.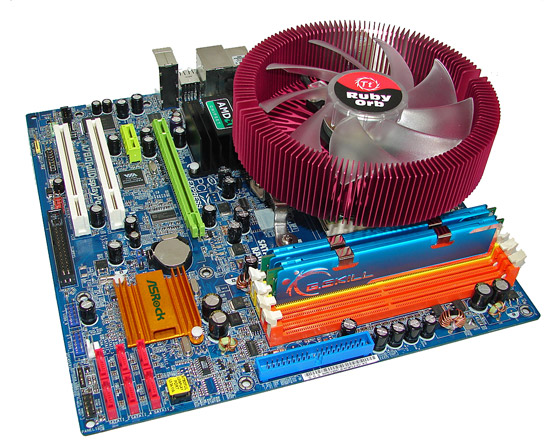 Our other solution was to replace the stock heatsink unit with a radial design that improved airflow around the CPU area to the point where the boards did not experience thermal related shutdowns or catastrophic failure when we played "Pop goes the MOSFET". We found that increasing our case airflow provided temperature drops in the PWM/MOSFET area about 5~11C better than the radial fan design. However, our processor temperature dropped about 3C at idle and averaged 9C lower at load when compared to the stock heatsink. Additionally, acoustic levels dropped on average about 4dB(A) with the radial fan setup.
Utilizing our standard test bed components with the 9850BE, we ran our Jetway, ASRock, and Gigabyte boards over 102 hours each with a combination of OCCT, Microsoft Flight Simulator X, and PCMark Vantage benchmark loops. We did this with the case fan modification first and then again with the Thermaltake RubyOrb installed. We did not have any thermal related failures or shutdowns under load as we had experienced with just the retail heatsink installed in previous testing. We also overclocked the 9850BE slightly to 2.7GHz and ran an additional 48-hour combination of OCCT and PCMark Vantage loops without a problem utilizing the two front-mounted case fans and retail heatsink.
Our Biostar and Sapphire boards both passed the 102-hour test. We did experience thermal related shutdowns with OCCT around the 40-minute mark on both boards with just the retail heatsink and standard case configuration. This also occurred around the two-hour mark with PCMark Vantage. In fact, we had Biostar send us another board after a bad overclocking experience (our fault for trying) with the 9850BE on an open test bed setup. We did not test either board in an overclocked condition but feel safe in their capabilities to run the 9850BE at stock settings with proper cooling.
Our results just reiterate that adequate airflow is required when utilizing a 125W TDP processor on these particular boards that are qualified by the manufacturers to work with the Phenom 9850BE or retail 9750 (OEM version is rated at 95W TDP) processors. At this time, AMD has not qualified the Jetway, ASRock, Gigabyte, Biostar, or Sapphire 780G boards to operate properly with the 125W TDP processors. Please keep this in mind when considering one of these combinations as only the manufacturer has stated compliance or in the case of Biostar and Sapphire, implied it. That said, we have finally completed our testing and will have performance results from these boards and others in the near future.