Introduction
Set the sails, Corsair is coming. It took a long time for Corsair to get on track with higher performing power supplies, as until now the company only offered up to 750W of power with their TX series. Following in the footsteps of the successful HX series, Corsair now brings the HX1000W to market, delivering the expected 1000W of power as the name suggests,. The HX series consisted of the 520W and 620W until now, whilst the step between 620W and 1000W is covered by the TX750W. Corsair focused on bringing in one new high performance power supply, instead of several in-between sizes like an 800W or 900W. That's sensible, as it's difficult to imagine situations where 750W is not enough but 1000W is too much. Also of note is that the Corsair HX1000W is the first 1000W power to receive NVIDIAs Triple-SLI certification, as previously NVIDIA only certified 1200W+ power supply for Triple-SLI.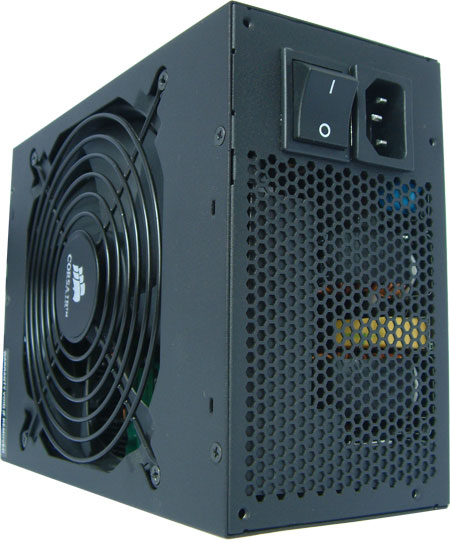 The HX1000W is our second article about a Corsair power supply, even though we have seen and tested most competing units before this. We tested the Corsair VX450W last year in a roundup of four 400W to 450W power supplies. At that time, the VX450W was our absolute favorite amongst the contestants. We will find out today if the HX1000W can impress us as much as the performance of the smaller brother did.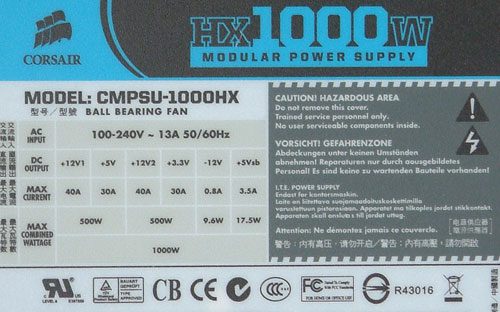 The label shows a CWT styled power supply similar to the ones we saw and tested from Xigmatek last week. The first 12V rail is combined with the 5V rail and the 3.3V rail is combined with the 12V2 rail. 12V comes from one of those combinations and the 5V standby rail is generated by its own circuit, similar in design to other switching power supplies in this field. Each side has a major 12V rail and a smaller voltage rail and the combined power of each side is 500W. In this configuration, it is very difficult to find a correct load distribution since the calculation from the ATX norm needs a combined power for the 5V and 3.3V rail together. Still, it is possible to load this power supply according to the norm and that is what we will be doing today.