A Newcomer from Intel: The Core 2 Duo E7200
A couple of weeks before the Phenom X3 launch Intel sent this little gem: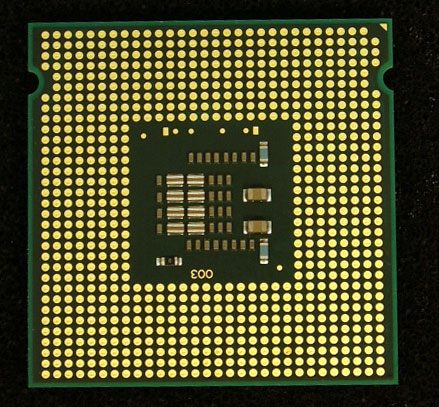 That's the Core 2 Duo E7200, it's due out sometime this quarter and it's supposed to sell for $133. The 45nm dual-core E7200 runs at 2.53GHz, with a 1066MHz FSB and has a 3MB L2 cache. Given what we reported in our last CPU story, we don't expect to see Intel hit the $133 mark with this chip until 45nm dual core shipments ramp up in late Q2/early Q3. A quick search online reveals the E7200 selling for around $160 today.
Intel also trimmed the pricing on some of its CPUs, the Core 2 Quad Q6600 now sells for $224 and the Core 2 Duo E6850 is now priced at $183.
Mainstream Platforms: Intel has an Issue
In the sub-$200 CPU space, most of these chips will be paired up with a motherboard that supports integrated graphics. For AMD that means the new 780G chipset and for Intel that means G35. Now from a general performance standpoint, these two chipsets perform very much like their more expensive, enthusiast-class siblings (790FX and P35/X48). You may give up 2 - 3% in the way of performance but motherboards are much cheaper and you get the benefit of integrated graphics, which is more than sufficient if your usage doesn't including heavy 3D gaming.
Unfortunately, Intel is in a not-so-great position right now when it comes to its platforms. It can't turn to ATI anymore for integrated graphics solutions, and with a full out war on NVIDIA brewing, it's left alone to provide chipsets for its processors as NVIDIA's latest IGP solutions are not yet available for Intel CPUs.
While G45 will hopefully bring full H.264/VC1/MPEG-2 decode acceleration to Intel's integrated graphics, it's just not ready yet. And while ATI/NVIDIA have historically held the integrated graphics performance advantage, now it's arguably even bigger. Without full HD-decode support on its chipsets, it's not just gamers that Intel is alienating, the platforms are preventing further adoption of Blu-ray on the PC.
So what are the options for OEMs? Either go with an AMD platform, or stick an AMD or NVIDIA graphics card in their Blu-ray enabled Intel machines. Neither option is something that Intel should be happy with right now. Intel's forthcoming G45 chipset does, at least in theory, solve this problem - however it's at least a couple of months away from being released.
As far as mainstream platforms go, AMD is definitely the winner here. The CPU performance leaves much to be desired, but for once (for once), we actually have a tangible platform advantage on the desktop. Now if you pirate your HD movies then none of this matters, as GPU accelerated H.264 decode doesn't work on much pirated content.