General Performance
We covered a lot of the user experience in our 4G Surf and 2G Surf articles, but there are some high points to cover with this unit.
First, a problem we observed on the Linux units was that videos would experience an audio sync problem over time. Watching the same videos on the 4G with Windows XP, we did not experience these issues, and playback was smooth. (South Park episodes at the official website also worked great, versus sync problems on the Linux models, but these must be watched windowed as fullscreen does not scale properly.)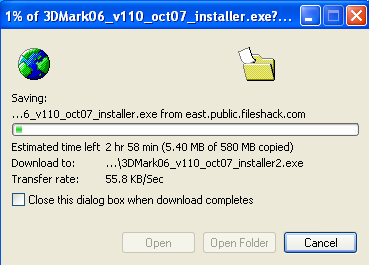 Second, we observed some unusual slowdowns from time to time using WiFi. This was noticeable just surfing, even without file downloads taking place. We attached the unit to the router via Ethernet cable and tried the same file again from the same server.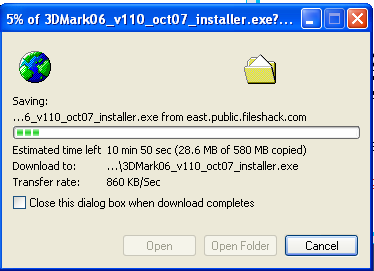 That's more like it… It's not a server or bandwidth issue. We then booted up our 2G Surf, placed it in the same location as the 4G XP, and downloaded the same file from the same server.

The 2G Surf (with the same Atheros WiFi chipset) does not have this issue. Over a few days of use, the 4G XP would speed up and feel "normal" for a while, then slow to a crawl (36 kB/sec at one point). In addition to the 2G Surf, other wireless devices also experienced no problems, so we believe that this is a specific problem with our 4G XP.
Third, previously we saw problems with the Linux 4G Eee periodically disconnecting from a wireless network, particularly after a suspend/resume. We had no such issues with the Windows XP unit; the network would reconnect seamlessly upon resuming.
Performance Testing
Operating System (seconds)
4G (Linux)
4G (Windows XP)
Startup
24
30
Shutdown
8
14
Suspend
7
4
Resume
8
7
Windows XP is quite responsive on the 4G Eee PC. There's not much difference here between installations other than the boot and shutdown times, which are longer.
PCMark 2005
PCMark 2005 uses a number of applications to simulate real-world system usage and provide a performance measurement. Some of these tests focus solely on the CPU (file compression and decompression, encryption, etc.), while others utilize the video subsystem (e.g. 3D Fill Rate, Pixel Shader).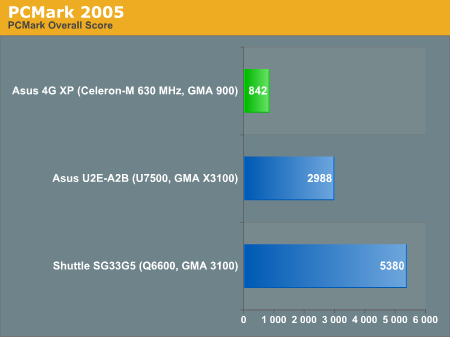 Obviously, the specifications of the 4G don't really lend themselves to an application as recent as PCMark 2005. It's severely outgunned by the faster, dual-core U2E and the much faster quad-core Shuttle desktop system, both of which have integrated graphics solutions. Still, the application ran fine and completed (though painfully slow).