PCMark Vantage
PCMark Vantage is the latest benchmark available from Futuremark, and it is only for use with Windows Vista. Similar to the venerable PCMark05 in its makeup, Vantage modernizes the criteria and test methodology to reflect what users may encounter when running the new Windows OS and current applications. For the HD test suite, the white paper breaks the tests down as follows:
Windows Defender: Windows Defender performs a scan operation, resulting in a read-intensive (99.5% read, 0.5% write) benchmark reflecting a common task in Windows Vista.
Gaming Performance: Streaming performance is measured using actual game mechanics found in Alan Wake. This test is nearly all read (99.95% read, 0.05% write) in nature.
Windows Photo Gallery: A large collection of images is imported into Windows Photo Gallery. This is the first of the tests which bring write performance into account in a meaningful way, with a roughly 84% read, 16% write ratio.
Windows Vista Startup: Simulates Windows Vista startup operations, producing a test that breaks down to roughly 85% read and 15% write operations.
Windows Movie Maker: The first of the Vantage tests which comes close to equally dividing read and write operations (54% read, 46% write), concurrent video performance is tested both for video read and skip performance, as well as video write operations.
Windows Media Center: Performing three distinct tasks:


SDTV video playback
SDTV video streaming to Extender for Windows Media Center
SDTV video recording

Windows Media Player: Adds music to Windows Media Player. This test reverts to favoring read operations (78% read, 22% write).
Application Loading: The following applications are loaded:

Microsoft Word 2007
Adobe Photoshop CS2
Internet Explorer 7
Outlook 2007
The total benchmark is roughly 87% reads and 13% writes in nature. We run each test five times per drive, producing a median score that we use for comparison in our charts.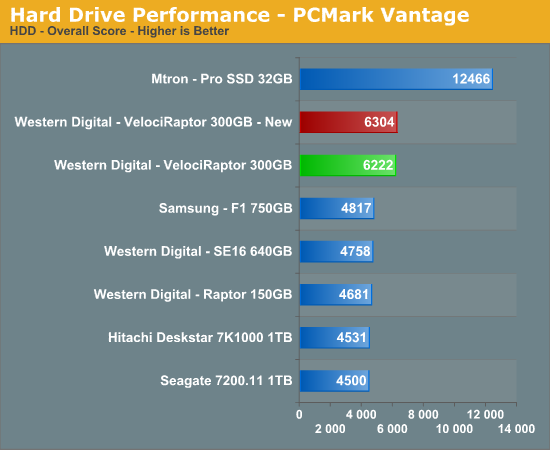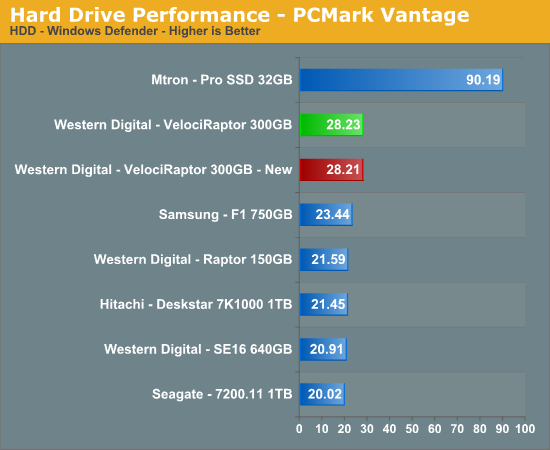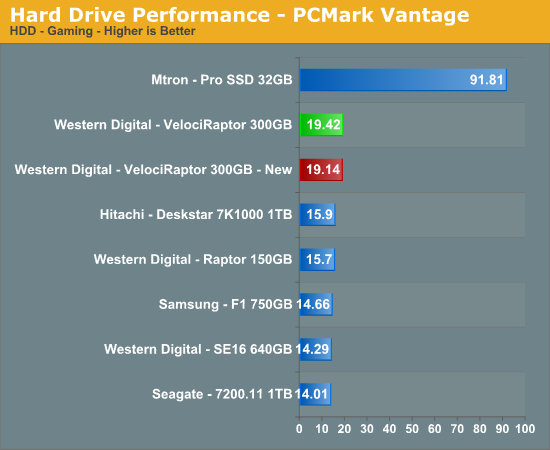 The VelociRaptor just decimates the competition in our overall score results, unless you count the almost ridiculous benchmark scores of the Mtron SSD drive.