Acoustics and Thermals
Our acoustic tests measure the decibel levels while the system is at idle and under load while running the Hard Disk test suite within PCMark Vantage. We take measurements at a distance of 5mm from the rear and front of the drive in a separate enclosure and report the highest reading. The test room has a base acoustical level of 20dB(A).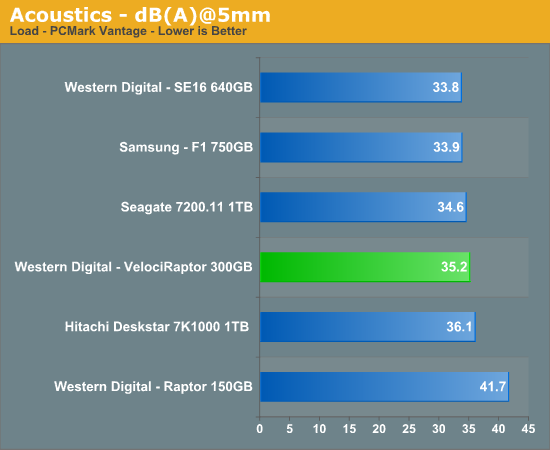 At 27.2 dB(A), this drive is almost one of the quieter drives we have tested and the results are just exceptional for a 10k RPM product. While the numbers indicate a very quiet drive at idle, the subjective take indicates a drive that has the slightest of whirling noise not present in the current 7200RPM 2.5" notebook drives. At load, this drive finishes in the middle of our test group. Like its predecessor, you know the drive is working during seek operations but the sound pressure is definitely muted. Unfortunately, our drive developed a slight clanking noise and we could not complete AAM testing on the drive.
Our thermal tests utilize sensor readings via the S.M.A.R.T. (Self-Monitoring, Analysis and Reporting Technology) capability of the drives as reported by utilizing the Active SMART 2.6 utility. We also utilize thermal sensors and infrared measurement devices to verify our utility results. We test our drives in an enclosed case environment. Our base temperature level in the room at the time of testing is 25C.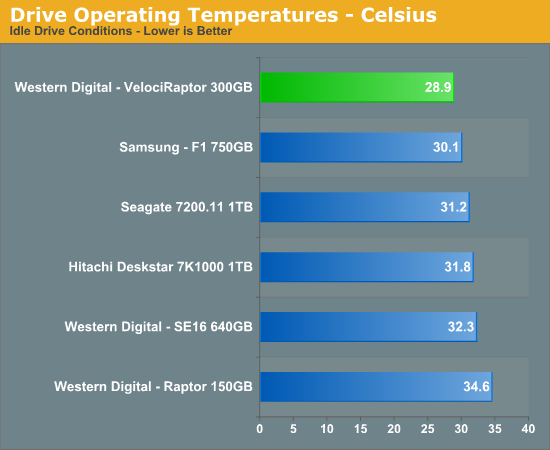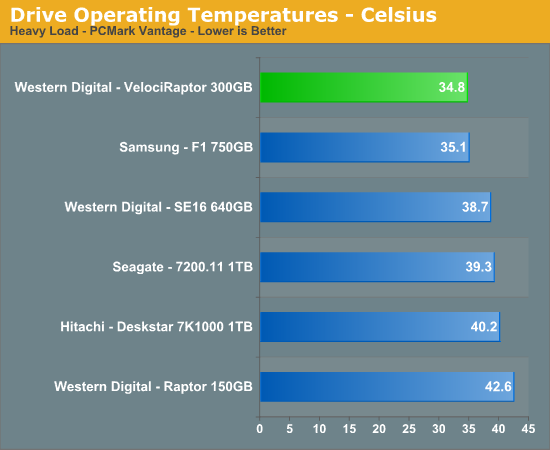 By way of its reduced power dissipation, the VelociRaptor leads our test group in both idle and load thermals even though its platters are spinning away at 10k RPM. We are still running thermal tests with and without the IcePAK chassis (do not try this at home as it will void your warranty). Western Digital's internal testing showed a 7.1C drop in temperature with the IcePAK system under normal operating conditions. We measured a 5.1C drop with the chassis attached without active cooling and an 8.2C reduction in temps with airflow across the chassis. This indicates to us that operation without the IcePAK will be fine in the enterprise market.