Internals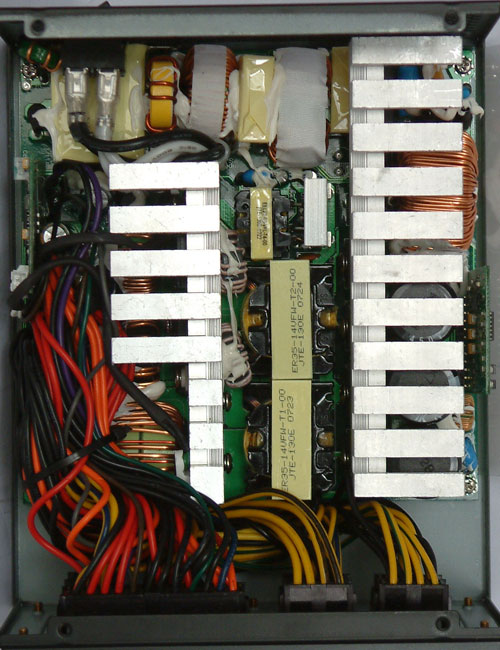 We had a look inside of the unit as we do with every PSU we review. Comparing this layout to former Silverstone models shows only slight differences. An X-cap is missing and an extra coil is present in the filtering stage, but otherwise the design is essentially the same. Silverstone includes a very complete filtering stage. There are three main capacitors installed, which actually allows for a very large heatsink right above them. Whether the larger heatsink was installed because the caps were smaller or the other way around is not easy to answer. Regardless, the three caps do a better job than a single cap would do in their place.
The capacitors are made by Japanese manufacturer Toshin Kyogo and rated at 150µF and 450V each. We have seen this brand in other high-quality power supplies as well already. In the middle are two main transformers and a third smaller one responsible for the standby voltage. The heatsinks are very large and thick. The fins are cut out of the aluminum with enough space between them to let air pass to the parts below them. The other side features Teapo electrolyte capacitors which are in many of the previously tested power supplies.
Looking at the cable management jacks from behind now reveals why they are so unstable. They are not attached to the power supply case very well, so it's possible to move them when you're trying to remove some cables. Silverstone left a lot of space between the PCB and the jacks since there are a lot of cables that need to find their way to the back. Normally companies use PCBs for the cable management, and the approach Silverstone takes here is new to us. In this case, newer does not strike us as better. We can see flaws with this connection system as the jacks wiggle around and don't feel as secure as other designs. Resistance might be higher than necessary because of badly attached connectors.