Complete BIOS Tuning Guide - "Over Voltage"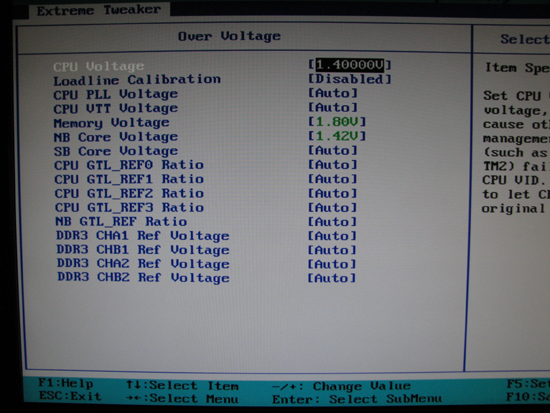 Over Voltage
CPU Voltage - [Auto, 1.10000 ~ 2.40000 in 0.00625 steps] This setting controls the processor supply voltage by manually adjusting the target CPU VID.
Our measurements have shown the ASUS Striker II Extreme to have a nominal load line impedance (RLL) of approximately 0.80mΩ meaning that for each ampere (A) drawn by the processor the regulated supply voltage will droop 0.8mV. Given this, a 45nm quad-core QX9650 CPU with a full-load power consumption of 80W should draw about 65A, resulting in a total drop of around 0.05V from idle to full-load.
Loadline Calibration - [Enabled, Disabled] Setting Enabled will effectively remove any negative feedback in the CPU supply voltage regulation circuit. This means that there will be little to no difference between the CPU supply voltage at idle and full-load. This does not mean however that there will be no offset seen between the idle voltage and the CPU Voltage VID as selected in BIOS. Disabled follows the Intel specification and allows the CPU supply voltage to droop under load as properly designed. We recommend you leave this Disabled and increase CPU Voltage as needed to satisfy the minimum operating voltage needed under load.
CPU PLL Voltage - [Auto, 1.50 ~ 3.00 in 0.02 steps] Selecting a higher PLL (phase lock-loop) voltage may help the installed CPU clock higher or may assist with maintaining stability when operating at higher FSB speeds. Most users will find they do not need to set this to anything above 1.50. Exercise caution when experimenting with higher values as there have been reported cases of CPUs losing cores after being subjected to voltages in excess of about 2.00V.
CPU VTT Voltage - [Auto, 1.20 ~ 2.46 in 0.02 steps] VTT is the termination voltage for data lines used to interface the MCH with the CPU die(s) via the Front Side Bus. Higher values can provide additional FSB overclocking margin, especially with 45nm dual-core processors and quad-cores CPUs in general. We have never found any additional gains to be had above 1.36 when using air- or water-cooling. Setting Auto should default to 1.10V for 45nm CPUs and 1.20V for 65nm CPUs. Knowing this, there appears to be a dead band between 1.10V and 1.20V where intermediate values cannot be selected - we are working with ASUS engineering to get this corrected.
Memory Voltage - [Auto, 1.50 ~ 3.10 in 0.02 steps] DDR3 memory is rated for standard operation at just 1.5V with most performance memory kits specifying the use of voltages between 1.75V and 1.95V inclusive. Increasing the memory voltage will have a direct impact on the ability to run the installed memory at higher frequencies, with tighter timings, or both. This voltage will droop slightly under load, so consider this when selecting the appropriate value. Our recommendation is never to exceed the manufacturer's maximum warranted voltage. With that said, values in excess of about 2.30V with DDR3 are a death sentence.
NB Core Voltage - [Auto, 1.30 ~ 2.20 in 0.02 steps] This is the main power supply voltage for the 790i SPP. Any of the following adjustments may require an increase in this voltage: higher memory operating frequency, tighter memory timings, enabling P1 and/or P2, the use of additional memory modules (including higher-density modules), and increases in PCIe Slot 1/Slot 2 base link speeds. We were able to reach DDR3-2000 speeds (500FSB) using 4x2GB of OCZ DDR3 with only 1.52. This is near full load for this chipset, suggesting that higher voltages will only lead to additional heating and eventual instabilities.
SB Core Voltage - [Auto, 1.50 ~ 1.85 in 0.05 steps] This is the main power supply voltage for the 570 MCP. Leave this voltage set to 1.50 unless you increase PCIE Bus, Slot 3, MHz, LDT Frequency, and/or SPP<->MCP Ref Clock, MHz and find instabilities due to the change(s).