iBUYPOWER - Ordering Impressions
iBUYPOWER is easy to find. Their company website comes up immediately from a web search, and often links to retail systems at other sites like Newegg or Wal-Mart appear as well. The third hit that I got was to Resellerratings.com, a popular site that ranks primarily tech businesses based on user feedback. Their six-month rating there is 5.42/10, with a lifetime rating of 6.76/10. To some degree these numbers can be taken with a grain of salt (Dell has a ratings of 1.57/10 and 4.16/10, Gateway 1.39 and 2.00, Alienware 5.83 and 7.10, etc.), but often the customer feedback is useful to read through. Most of the complaints stem from shipping concerns, but there were quite a few happy customers, and iBUYPOWER responded to several of the complaints.
Going through their website can be overwhelming, even for enthusiasts. There are a large number of base system configurations (19 Intel, 21 AMD), and a huge number of individual options for each one of those systems.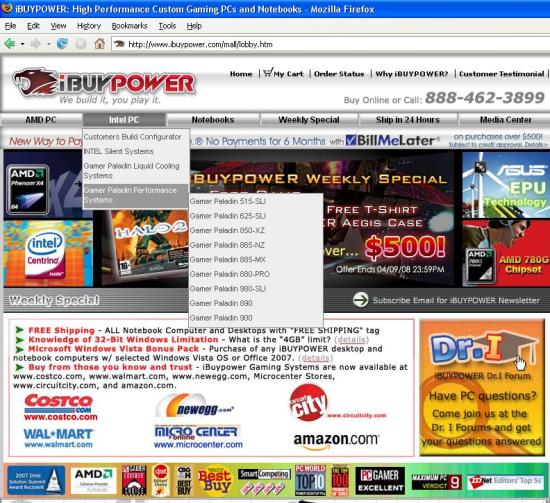 Which one do I want…?
Their cheapest "base" Intel system is the Paladin 515-SLI starting at $909. Immediately it's easy to be confused, as the case (the first option) comes "w/420W power supply", but option 3, "Power Supply", is selected as 500 Watt. Besides that complaint, working through the rest of the list shows a large variety of options. There are satellite speakers for $2, and a sub/satellite combo for $4 (600W PMPO! - I find myself doubting the quality of these). You also get some freebies thrown in; T-shirts and games are available for most configurations. The "Help me choose" options are not helpful in the least, as most simply list every specification for every item in the list. This is information overload in the extreme and doesn't provide simple comparisons.
A brief list of Pros and Cons regarding the website layout and content is as follows:
Pros
Website easy to find

Huge array of choices

Generally competitive pricing

Fair shipping rates
Cons
Huge array of choices! Can be confusing and contradictory in areas

Website is visually busy

"Help me Choose" is unhelpful

Some low-quality items