Final Words
Over the next six months we will begin seeing the first devices based on Intel's Atom processor. For 2008, Intel expects to see Atom used primarily in 5" form factor MIDs (Mobile Internet Devices). I've played with prototypes of these Atom based MIDs and honestly, they are not any more impressive than the UMPCs that preceded them. The interfaces are sluggish, the devices are still too bulky and I'm not completely convinced that they're worth the added hassle of carrying one around with me all day.
Intel seems to think that Atom based portable GPS devices will be some of the more interesting devices out this year, and while I see some potential there I'm just not that excited.
It's a shame because I am quite excited about the Atom processor, or its future to be more specific. I'm honestly fed up with poor performance in just about every consumer electronics device that I live with - I want the sort of responsiveness that I get with my desktop or notebook, but I want that in my cable box, in my TVs, mobile phones, Blu-ray players, toasters, etc...
The first iteration of Atom simply won't deliver on enough fronts to make the sort of revolutionary changes I want. It lacks the level of integration necessary for truly portable devices and where I really want to see it isn't in bulky MIDs and UMPCs, but rather in things like the iPhone.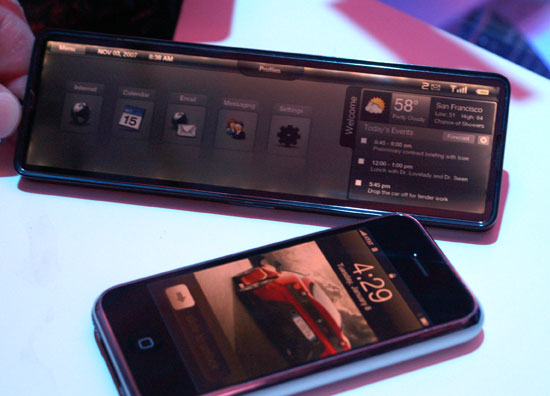 The iPhone (bottom) and a mockup of what the Atom could be in within 3 years (top) 
I don't have high expectations for Atom today, while it will surely enable even more EeePC-like devices it's the processor's future that I'm most interested in - and Intel is too. You can find Intel silicon in the majority of desktop and notebook PCs shipped, but if Intel were able to make Atom a success you would find Intel in much, much more. TVs, phones, set top boxes, MIDs, all of these would be running x86 and potentially Intel processors. We always wondered what Intel would do to its spare fab capacity if it integrated a north bridge/memory controller onto its CPUs, with Atom we now have that answer.
The beauty of Atom being successful in these markets is that it doesn't just benefit Intel but AMD and the markets as a whole. Intel will be in for a fight once it begins competing with ARM based processors for space in the CE market, which should promote competition. In those areas where Intel does manage to bring x86 where it hasn't been before, those will quickly become areas where AMD can offer an Atom alternative. Remember that AMD built much of its CPU business on offering a more cost effective x86 alternative to Intel; there's no reason to believe that the same trend won't continue should Atom become successful in the CE industry.
Competition is a very good thing and it's rare that Intel plays the underdog in an industry, but with Atom it most definitely is. The road ahead will be a long one for Intel and its new baby, but the future does look very bright: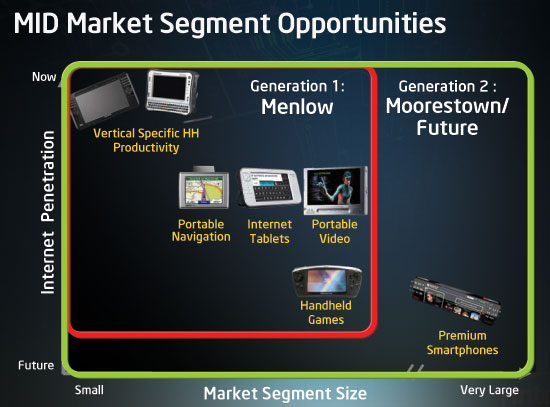 What made Atom possible is also what will make it better over time. Moore's law should mean some very interesting things are in store for the processor. The Moorestown update will bring about a more integrated solution, finally enabling Atom to find its way into larger smart phones.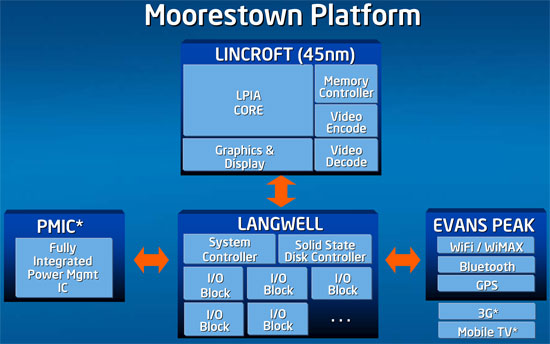 Moorestown will bring an integrated memory controller to Atom among other things... 
Take things one step further with an eventual 32nm shrink of Moorestown in the 2011/2012 timeframe and I think we may just be able to have x86 everywhere at the start of the next decade.