The 9800 GTX and EVGA's Cards
The 9800 GTX is a 128 shader, G92 based card (yes, another one) that comes in at 675MHz core, 1.69GHz shader clock, and 2.2GHz (effective) memory clock. This puts the raw power of the card up over the 8800 Ultra, but there is one major drawback to this high end part: it only has a 256-bit memory bus hooked up to 512MB of RAM.
The added memory might not come into play a lot, but the fact that the 8800 Ultra has essentially 50% more effective memory bandwidth does put it at an advantage in memory performance limited situations. This means there is potential for performance loss at high resolutions, high levels of AA, or in games with memory intensive effects. While we get that $300 US puts this card in a different class than the 8800 Ultra, and thus NVIDIA is targeting a different type of user, we would have liked to see a card with more bandwidth and more memory (especially when we look at the drop off in performance between Crysis at 19x12 and 25x16).
9800 GTX cards are capable of 3-way SLI with the two SLI connectors on the top. Of course, NVIDIA requires that we use an NVIDIA motherboard for this purpose. We are not fans of artificial technical limitations based on marketing needs and would much prefer to see SLI run on any platform that enables multiple PCIe x16 slots. With normal SLI, we do have the Skulltrail option, but NVIDIA has chosen not to enable 3-way capability on this board either.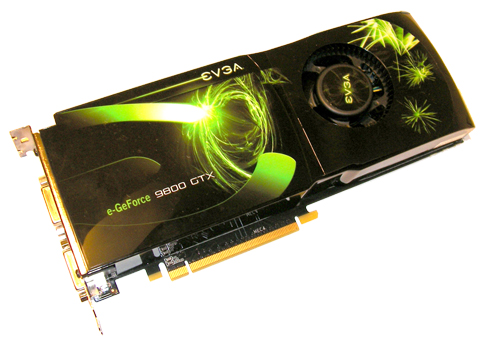 We wanted to be able to include 3-way SLI numbers in our launch review (which has been one incredible headache, but more on that later), and EVGA was kind enough to help us out by providing the hardware. We certainly appreciate them enabling us to bring you numbers for this configuration today.
We were also able to get our hands on a C0 engineering sample 790i board for testing. Let's just say that the experience was … character building. Running a QX9770 and 1333Mhz DDR3 at 9:9:9:24, we had what could best be described as a very rough time getting 3-way and even quad SLI with two 9800 GX2 boards to work in this system. We were lucky to get the numbers we did get. Let's take a look at what we tested with