Overall System Performance - SYSMark 2007
SYSMark 2007 is an application benchmark suite that plays back real world usage scenarios in four categories (E-Learning, Video Creation, Productivity and 3D), using the following applications:
Adobe After Effects 7
Adobe Illustrator CS2
Adobe Photoshop CS2
AutoDesk 3ds Max 8
Macromedia Flash 8
Microsoft Excel 2003
Microsoft Outlook 2003
Microsoft PowerPoint 2003
Microsoft Word 2003
Microsoft Project 2003
Microsoft Windows Media Encoder 9 series
Sony Vegas 7
SketchUp 5
WinZip 10.0
Performance is measured in each individual category and then an overall score is reported.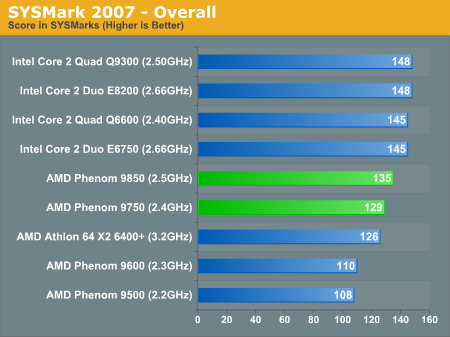 The new Phenom processors are finally within striking range of Intel, while the Q6600 still manages a 7% lead over the X4 9850 the latter is priced a bit cheaper and thus is within the realm of competition.
The fact that the dual core Athlon 64 X2 6400+ manages to almost equal the performance of the 9750 illustrates two points:
1) AMD desperately needs to increase clock speeds of its Phenom line, and
2) Most applications still don't benefit tremendously from four cores, paving the way for AMD's triple core Phenom X3 to clean up in the $150 - $200 space.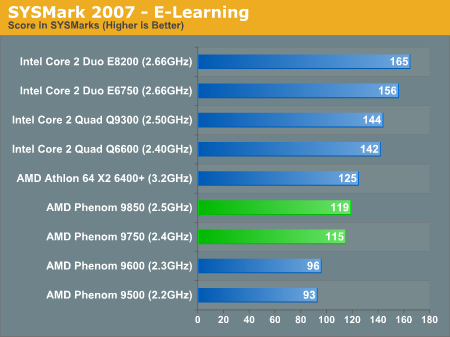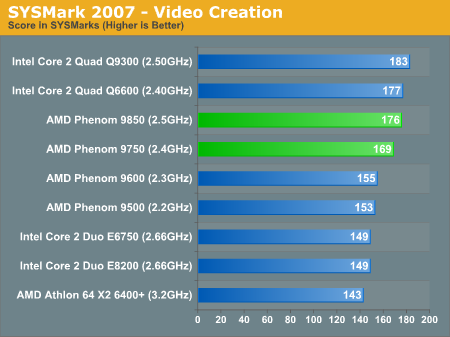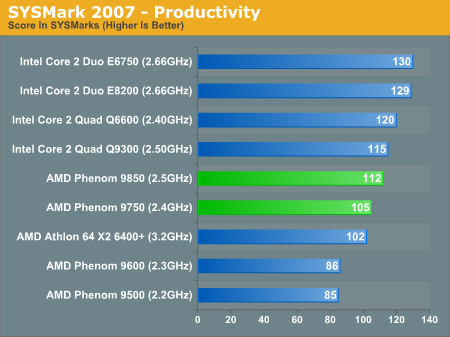 The productivity test shows us something very interesting - the Core 2 Quad Q9300's 6MB of L2 cache (3MB shared per pair of cores) actually makes it slightly slower than the outgoing Q6600, which has a full 8MB (4MB per pair of cores). The rest of the numbers indicate that this is obviously not a problem elsewhere, but it's still worth noting.