The Core 2 Quad Q9300: Benchmarked
When Intel launched the Core 2 Quad Q6600 it was an instant hit in the enthusiast community. You didn't have to give up much in clock speed over an equivalently priced dual core (only 266MHz), but you got four very fast cores to do with what you will. When Intel unveiled its 45nm quad core QX9650 we were excited, but what we really wanted was the Q6600's successor.
We knew from looking at Intel's roadmaps that its successor would be the Q9300, priced at $266 (identical to the Q6600, at least on paper) this would be the new Q6600. We had 45nm quad core chips on hand, but we couldn't simulate the Q9300, the table below explains why:
| | | | |
| --- | --- | --- | --- |
|   | Clock Speed | L2 Cache Size | FSB |
| Intel Core 2 Quad Q9450 | 2.66GHz | 12MB | 1333MHz |
| Intel Core 2 Quad Q9300 | 2.50GHz | 6MB | 1333MHz |
| Intel Core 2 Quad Q6600 | 2.40GHz | 8MB | 1066MHz |
While all of the other 45nm quad core CPUs have 12MB of L2 cache on chip (6MB L2 per pair of cores x 2 pairs of cores = 12MB), the Q9300 only has 6MB (3MB L2 per pair of cores x 2 pair = 6MB). The 6MB is also less than the 8MB on the Q6600, but the Q9300 runs 100MHz faster, has a 1333MHz FSB (vs. 1066MHz) and all of the minor architectural tweaks present in Penryn. The question then becomes, is the Q9300 any faster at all than the Q6600?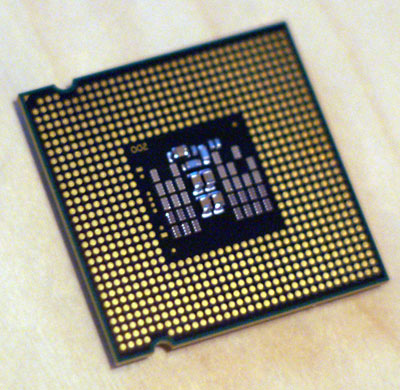 The new Intel Core 2 Quad Q9300
Thankfully we can finally find out. The Q9300 just started shipping and you can now buy them from Newegg, but as we mentioned before they carry a 12% price premium due to limited supply. Assuming that the pricing issues get fixed next quarter, let's see how the Q9300 behaves as a Q6600 successor: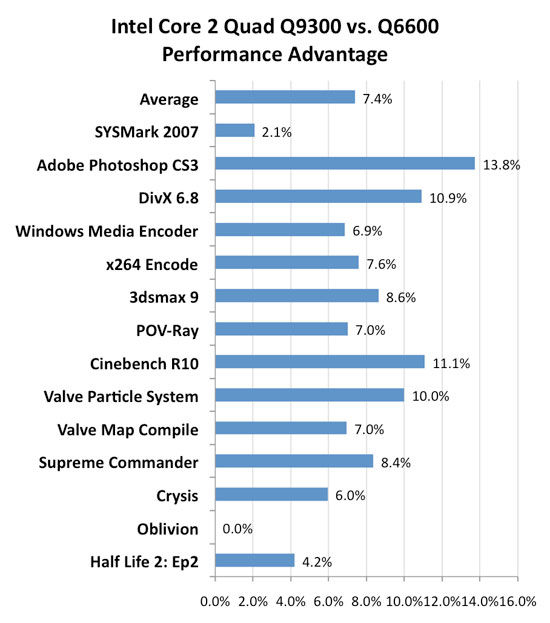 The 7.4% average performance increase over the Q6600 isn't bad at all, especially if we're looking at price-parity. The Q9300 sell becomes even easier when you look at power data:
| | | |
| --- | --- | --- |
|   | System Idle Power | System Load Power |
| Intel Core 2 Quad Q9300 | 113W | 154W |
| Intel Core 2 Quad Q6600 | 136W | 210W |
The Q9300 can be noticeably faster than the Q6600 depending on the benchmark, and it does so while consuming significantly less power. We'd say that makes a pretty good successor to the first affordable quad core CPU.