Modu82+ Package and Appearance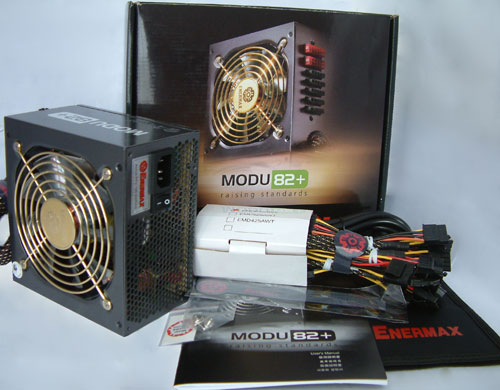 The power supply comes in a very nice color box with all the necessary information on it. The unit is encased in bubble wrap to protect it from shipping damages. Enermax typically includes a variety of accessories in their packages. In this case, besides the normal stuff like screws, a power cord, and the manual, we also get a nice cable tie, a bag for unused cables, and stickers.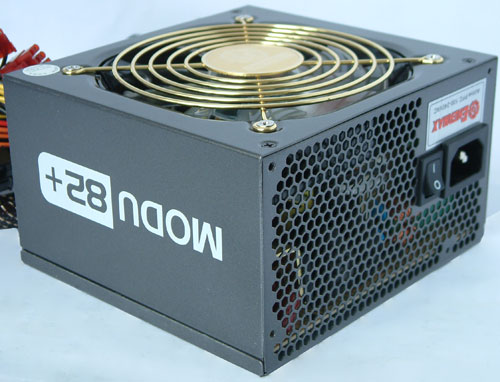 The power supply comes is a gunmetal color and has a golden fan grille. The latest trend is for manufacturers to print a large logo on the side of their PSUs, or at least attach a large sticker. The Modu82+ series follows this pattern, with its name printed on the side panel. Users can't normally see this logo after installing the PSU in a case, and now it's not possible to see the label with the PSU specifications without removing the PSU, but nobody seems to care. The specifications label is now on top of the power supply, because users don't read it anyway after the unit is installed in a system. The back of the casing is totally perforated to serve as an exhaust.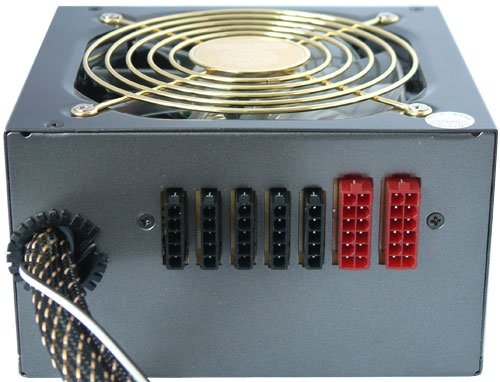 The front provides the jacks for the cable management system. There are two large 12-pin red jacks and five 5-pin black jacks. The smaller black jacks are reserved for peripheral components like hard drives and optical drives. The red ones are for the graphics card connectors. Enermax states that the 12-pin jacks are "future ready", as they can release updated cables should the need arise.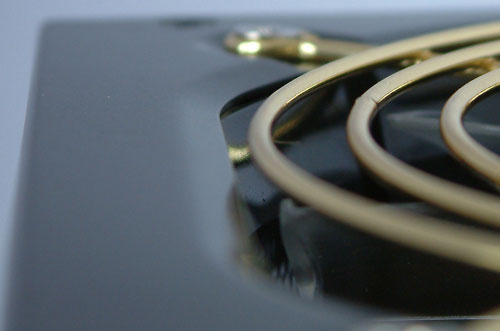 You can see in the above image that Enermax trimmed the edges of the opening around the bottom fan. Enermax says this additional angle allows the air to enter the power supply more smoothly and thereby reduce noise levels. Since the fan is already quiet and runs at a very slow speed, we couldn't really notice a difference in acoustic noise.