A Whole New Ball Game
As we stated earlier, the AMD 780G/780V is an all new chipset that consists of an RS780/RS780C Northbridge and SB700 Southbridge. AMD's intent with this chipset is to offer a better alternative to the NVIDIA GeForce 8200, but more importantly to provide a total platform solution that competes directly against the current Intel G31/33/35 products.
Meant for the consumer market, the 780G has a heavy emphasis on multimedia and casual gaming capabilities via the HD 3200 graphics core with a 500MHz core clock. AMD is targeting the 780V chipset for the business crowd and it features the HD 3100 graphics core. DX10 functionality is retained but the core clock is reduced 350MHz while UVD 2.0, DisplayPort, Surround View, and Hybrid CrossFire are not supported.
780G Northbridge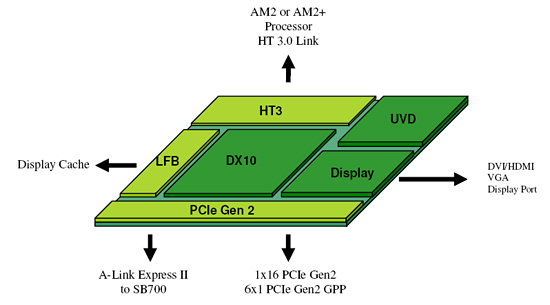 AMD has a distinct manufacturing advantage in producing this Northbridge compared to Intel. The primary reason is the fact that the memory controller logic resides on the AMD processor, freeing up a considerable area on the NB die for a complete discrete solution. Compared to the 80nm manufacturing process used on the 690G, AMD has designed the 780G on a 55nm TSMC half-node process used to produce the current HD 3xxx series of cards. In the process of dropping in the RV610 core, HT 3.0, PCI Express 2.0, UVD, and other enhancements the transistor count for the 780G has grown to 205 million compared to the 72 million transistors in the 690G.
The biggest change AMD made in designing the 780G is a new integrated graphics processor featuring a slightly modified RV610 core that powers the Radeon HD 2400 series of cards. While the RV610 is an entry-level core from AMD, this core is less than a year old. Compared to the X700 design in the 690G, AMD has basically skipped two generations of budget GPU designs to incorporate this core into the 780G and has named it the HD 3200. This is the first time a manufacturer has used a current discrete graphics core directly in an IGP solution. Typically, most of the GPU designs for the IGP products have used the "reduced" feature set of a previous generation discreet design.
The Radeon HD 3200 graphics processor features a DX10 compliant unified shader model 4.0 graphics core. This architecture contains 40 stream processors from two shader SIMDs. The core features 128-bit floating point precision for all operations, a command processor for reduced overhead, DXTC and 3Dc+ texture compression, texture support up to 8192x8192, and a fully associative texture and Z/stencil cache.
The single texture and ROP units are capable of handling four texels and pixels per-clock, respectively. This allows up to 16 texture fetches per clock cycle and up to 128 textures per pixel. The one modification AMD made compared to the RV610 core is that the vertex and texture caches are fully associative instead of separate. Other technical goodies include early Z-test, Re-Z, Z range optimization, and Fast Z-clear operation.
There are eight render targets (MRTs) with anti-aliasing support, along with lossless Z and stencil compression. The HD 3200 features multi-sample anti-aliasing (up to 4 samples per pixel), custom filter anti-aliasing, adaptive super-sampling and multi-sampling, along with Super AA when using Hybrid CrossFire. HDR rendering is supported for all anti-aliasing features, although like current generation HD 2400 products, the performance hit for using AA is significant in certain games.
Texture filtering features include 2x/4x/8x/16x adaptive anisotropic filtering modes with up to 128 taps per pixel support. Bicubic, sRGB, and percentage closer filtering are featured along with 128-bit floating point HDR support. Finally, the HD 3200 includes a programmable tessellation unit and an accelerated geometry shader path for geometry amplification.
The core clock speed operates at an impressive 500MHz with most BIOS options offering the ability to overclock the core up to 1100MHz. Success in overclocking the core depends on several factors such as voltage options, thermal design, and processor choices. We have averaged around 750MHz with the X2 processors and 850MHz with the Phenom on a couple of performance-oriented boards. Unlike the 690G, increasing the core clock can actually affect frame rates a noticeable amount, at least on certain games.
AMD uses a highly optimized unified memory architecture (UMA) design, and all graphics memory is shared with system memory with the ability to access up to 512MB of system memory. SidePort memory is an available option depending upon the motherboard supplier and features a separate 32-bit DDR memory interface that the GPU can use either instead of or along with the shared memory. Depending on the processor and HT Link utilized, this option will generally improve performance across the board by about 5% - not just in games, but in video decoding capabilities as well.
The primary advantage of SidePort memory will be in the mobile 780M configuration where it will allow greater power savings and the ability to utilize a single channel DDR2-800 setup and still have performance almost equal to that of a dual controller setup. AMD expects to see significant performance gains in video decoding capabilities with a single channel memory setup in the 8.4 drivers.
Hybrid CrossFire comes of age on the 780G with the release of the 8.3 Catalyst driver set. Hybrid CrossFire supports current HD 2400 and 3400 based cards. In early testing we have seen increases of up to 30% in games like Half-Life 2: EP2 with a $45 HD3450 card. The additional card completely changes the game play dynamics of this chipset and allows several recent games to play at 1024x768 HQ settings or 1280x1024 medium quality and still keep the frame rates in the 40FPS to 60FPS range. However, smooth game play at those settings is not possible in Crysis (as one example), but what reasonable priced video card stands a chance with that game anyway?
AMD integrates their Unified Video Decoder 2.0 (UVD 2.0) capabilities into the 780G. UVD 2.0 offers hardware acceleration for decoding VC-1, H.264 (AVC), WMV, and MPEG-2 sources up to 1080p resolutions. Advanced de-interlacing is available when using a Phenom processor. We generally found CPU utilization rates and output quality to be near or equal to that of the HD 3450.
We were excited to learn that AMD was seeking HDMI 1.3b certification of the RS780, but it turns out that will not happen. xvYCC color space is fully supported and Deep Color (10-bit) was on the list, but the specification calls for 4:4:4 and the RS780 supports 4:2:2. On the audio side, the HDMI interface offers support for 2-channel LPCM, Dolby Digital 5.1, or DTS 5.1. Multi-Channel LPCM is not supported due to an available audio bandwidth of 1.6Mb/s on the chipset.
Rounding out the video capabilities of the 780G is analog output, DVI/HDMI interfaces, internal or external TMDS, and integrated DisplayPort capabilities. The HD 3200 features dual independent displays that allow resolution, refresh rates, and display data to be completely independent on the two display paths. AMD provides HDCP support with on-chip key storage for DisplayPort, DVI, or HDMI interfaces but is regulated to a single interface during playback operations. ATI SurroundView is fully supported when utilizing a Radeon based discrete card that allows the system to drive up to four monitors.
HyperTransport 3.0 capability (5.2GT/s+ interface) is included and is extremely important in extracting every last ounce of performance out of the HD 3200 graphics core. AMD recommends the Phenom processor family (Ed: not just to sell out stocks of B2 processors) in order to fully take advantage of the performance offered by the HD 3200. With a Phenom onboard, the HD 3200 will perform post-processing on high-definition content and it makes a difference in image quality and fluidity during 1080p playback. In fact, the graphics core is so sensitive to the HT interconnect link speed that simply raising the standard 1.8GHz speed to 2.2GHz on our 9600BE resulted in measurable performance differences in a few applications.
The Northbridge contains 26 lanes of PCI Express 2.0 connectivity with 16 lanes reserved for graphics via an x16 link, while six are available for x1 links for expansion slots or onboard peripherals. AMD reserves the remaining four links for use in the A-Link Express II interface to the SB700.
SB700 Southbridge


While technically a completely new part, the SB700 appears to us to be more of a big brother to the SB600. It is obvious that AMD set out to correct the ills of the SB600 but once again fell just short of having an outstanding Southbridge. Of course, AMD tells us to wait for the SB750, but we have heard that story before. Anyway, let's get into what has changed and what has not.

The SB700 features six SATA 3.0Gb/s ports, up from four on the SB600, with the ability to reserve up to two of those ports for eSATA connectivity. Drives can be set up in RAID 0, 1, or 10, but the absence of RAID 5 still perplexes us (although it should be in the SB750).

Also missing in action is a native interface for networking support. AMD continues to use an external PHY and MAC for network operations. Although performance is similar to the NVIDIA and Intel solutions, this setup does incur a cost penalty for the motherboard suppliers.

The major improvement in the SB700 is the increase in USB 2.0 performance and the number of ports available. The new dual-channel controller features 12 USB 2.0 capable ports and two specific 1.1 ports for compatibility reasons.

A single PATA channel provides native IDE support for up to two drives. This channel supports PIO, multi-word DMA, and Ultra DMA 33/66/100/133. HyperFlash support is provided via Windows Vista ReadyBoost and ReadyDrive protocols with an IDE based HyperFlash module.

The SB700 features four PCI Express lanes for the A-Link Express II interconnect, but unlike the 780G those four lanes are based on PCI Express 1.1 specifications. That means the interconnect bandwidth is capped at 2GB/s, half of what it would be in a PCI Express 2.0 configuration. Also provided in the SB700 are five PCI lanes.

Finally we have the High Definition Audio controller that allows up to 16 channels of audio output per stream. The controller supports up to four codecs with sample rates going up to 192kHz and up to 32-bits per sample.

Overall, the combination of the 780G and SB700 brings AMD to the forefront in features and performance in the IGP market. Power management was a critical factor in the design of both chipsets with the 55nm fabrication process being a major factor in the power savings department. Both chipsets feature an idle TDP of around 1.5W with load ratings being 15W for the 780G and 4.5W for the SB700.