Every time a mention of the Olympus 4/3 camera system is made in articles we get comments that there is no promised size and weight savings with the 4/3 line. That ignores the E-410, which is currently the smallest DSLR made, but it is certainly true of the Pro-oriented E-3 whose construction and weather-sealing yield a solid camera that is both large and heavy. Perhaps to remind users that small is also beautiful, Olympus has just announced the world's smallest DSLR and a new 25mm f2.8 "pancake" lens that redefines small on a DSLR.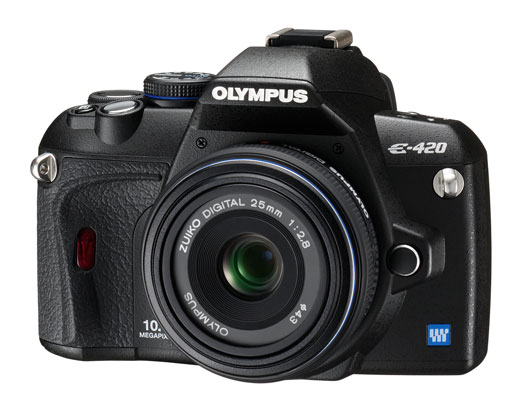 Olympus pioneered Live View, a feature that has become almost a checklist item for every new DSLR introduction these days. The Point-and-Shoot users who are migrating to DSLR in record numbers are used to this feature and many want to continue the ability to see and compose photos on the rear LCD. The E-420 takes Live View to a new level in the Olympus line, using both phase-detection and contrast-detection for focus on the 10MP (megapixel) Live View screen. Olympus says it also works just like regular AF (Auto-Focus) on the E-420: when you push the shutter release half-way you get AF on the rear LCD just like you do when looking through the optical viewfinder.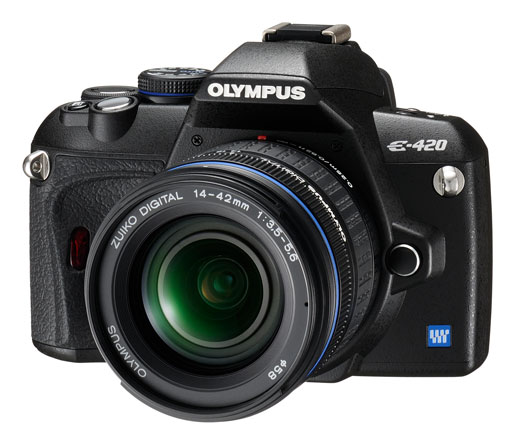 In addition, Olympus added another hot point-and-shoot technology to the E-420. Face Detection is this year's must have feature in P&S as we reported in our PMA coverage. The E-420 is the first DSLR with this feature and it promises to keep up to eight faces in focus in a picture. Despite the smaller camera size, the E-420 also increases the LCD size to 2.7" from the 2.5" of the E-410. Shadow Adjustment Technology also promises an expanded dynamic range.
Here's a quick rundown of the major features and innovations on the E-420:
On-Screen Autofocus works as seamlessly as a point-and-shoot to display subjects in focus on the LCD the instant the shutter is pressed half way.

Face Detection Technology targets and locks on up to eight faces to ensure they are in focus and crystal clear for amazing portraits.

New and Improved HyperCrystal II Technology delivers twice the contrast and better viewing in extreme lighting conditions, a broader range of color detail, and a wider angle of view on the LCD so you and your friends can see it up to 176 degrees off-center.

Shadow Adjustment Technology captures detail in the bright areas of a frame and opens up detail in the shadows that other cameras would render too dark or underexposed.

Perfect Shot Preview enables you to view and select your favorite effect right on the LCD, and see how the image will look before you even capture it, so you know that what you see is what you get.