E8000 Lineup and Early Overclocking Results
Intel plans to introduce no fewer than four new 45nm dual-core processors as part of its Q1 2008 Wolfdale launch. At the time of publication, the following models are scheduled for immediate availability:
E8200, 2.66GHz, 6MB shared L2 cache, 1333MHz FSB, maximum 8.0x multiplier

E8300, 2.83GHz, 6MB shared L2 cache, 1333MHz FSB, maximum 8.5x multiplier

E8400, 3.00GHz, 6MB shared L2 cache, 1333MHz FSB, maximum 9.0x multiplier

E8500, 3.16GHz, 6MB shared L2 cache, 1333MHz FSB, maximum 9.5x multiplier
Estimated street prices, although unconfirmed and subject to change, are expected to be around $299 for the E8500, $249 for the E8400 and $163 for the E8200. As you can see, each processor features a maximum multiplier - there has been no formal mention of an "Extreme Edition" dual-core processor at this time. Additionally, rumors of the impending release of an E8600 processor (presumably running at 3.33GHz with a 10x multiplier) go unconfirmed. It it becomes available, the E8600 may very well be the CPU to own as it would allow for operation at 10x400 (4GHz), a very good place to be when it comes to tuning in maximum memory performance.
Unlike the Conroe release, all processors will make use of the full 6MB shared L2 cache offered on the top-end E8500 model. Undoubtedly, a 45nm Celeron or Pentium line (or E5000/E7000 - choose your favorite naming scheme) will eventually make their way to retail. We expect these to come in at 3MB and/or 1.5MB of shared L2 cache. Based on what we have seen when it comes to 65nm Pentium E2000 and Core 2 E4000 chips, when they do arrive the 45nm variants will offer tremendous value and an amazing price/performance ratio.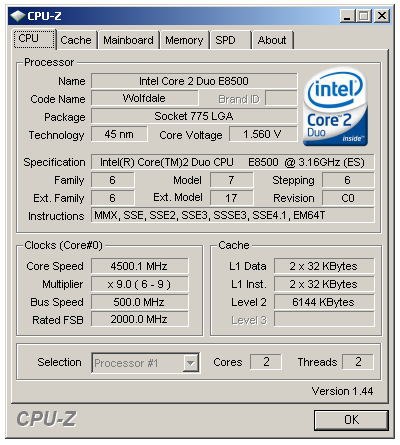 Designed to run at an already fast 3.16GHz, this E8500 is just starting to stretch its legs and show its true potential with some water-cooling TLC.
We were able to overclock our E8500 sample all the way to 4.5GHz with water-cooling; what's more, we were able to demonstrate complete stability at these speeds running many hours of Prime95, a popular tool for stress-testing systems. Most X6800/X6850 owners will attest to this amazing achievement - the average overclock for top-bin 65nm CPUs falls somewhere near the 3.8 ~ 4.0GHz mark. Results such as these combined with Wolfdale's modest clock-for-clock advantage over Conroe show the prospect of 15% or more processing power when overclocking. Even though the official frequencies may not have changed significantly (yet) - a new maximum of 3.16GHz, up from 3.00GHz - this increase in overclocking headroom makes the E8500 a marvel to behold.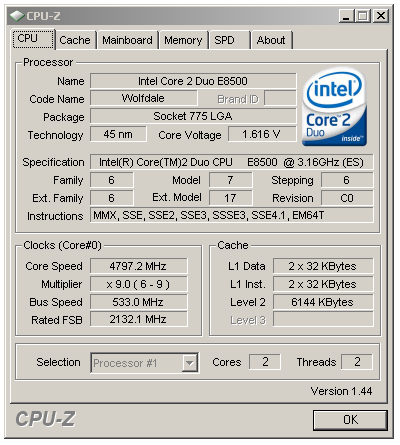 Our top (unstable) overclock on water is nothing short of impressive. Although we were unable to benchmark up here, future steppings may change that. The ability to POST and load Windows at 4.8GHz on water promises more to come….
A quick maximum-frequency run on water indicates the proverbial sky's the limit when it comes to overclocking the E8500. The maximum achievable frequency had more to do with our nerves than anything else. Given the voltage, our E8500 was more than happy to continue scaling higher. However, we eventually said enough is enough and called it quits - that point came when we were subjecting our poor 45nm CPU to over 1.6V, a level that could possibly require you hand over your credit card number in exchange for another CPU in no time flat. Quite simply, we believe any voltage over 1.45V is asking for trouble with 45nm processors and our conversations with Intel to date have all but confirmed our suspicions.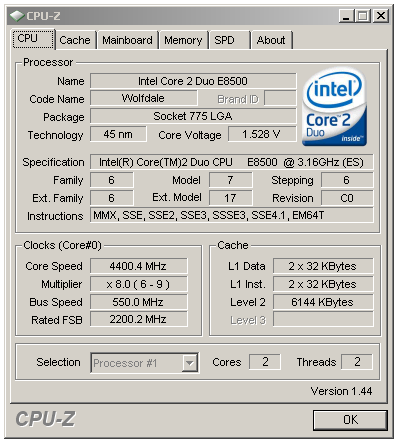 The E8500 is no slouch when it comes to chasing a high FSB. Of course, all of this will be for naught when Intel releases their next-generation Nehalem architecture.
Here's the obligatory high-FSB screenshot, for those that care. In case you missed it, we recently had an in-depth article on why high FSB overclocking might not really be the best approach to take when dialing in maximum system performance. Suffice it to say, our fascination with these displays of CPU or motherboard worthiness is rapidly waning. However, we are also not so stubborn as to not acknowledge the importance of high FSB potential when it comes to pushing processors with low multipliers. Our recommendation is straightforward, however: buy the model with the highest multiplier that you can possibly afford. Most motherboards (and systems) are far happier running 9x490 than 8x550.