Taking apart the new MacBook Pro is virtually identical to the old one.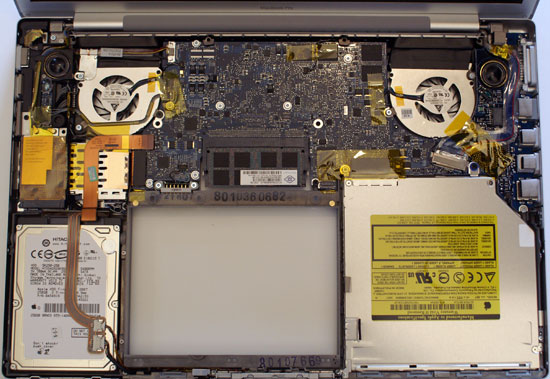 The motherboard layout hasn't actually changed, the reason we haven't seen the Penryn update until today is because there were some late changes to the voltage specs from Intel. The result was that all of the motherboards had to be slightly reworked resulting in a delayed release of mobile Penryn, despite the CPUs being announced at CES in January.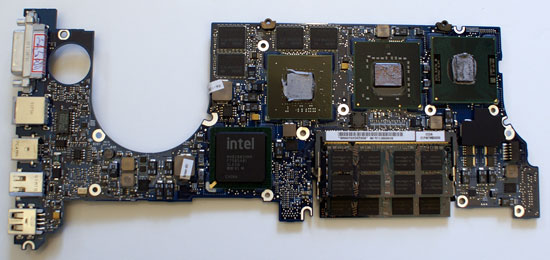 As always, the MacBook Pro motherboard is quite compact and a custom design. The four major chips can be seen above, from left to right we have the Intel ICH, NVIDIA 8600M GT GPU, Intel Mobile 965 MCH and the mobile Penryn CPU itself. Despite the CPU upgrade this is still considered to be a Santa Rosa based notebook, hence the identical chipset to what was in the old Pros.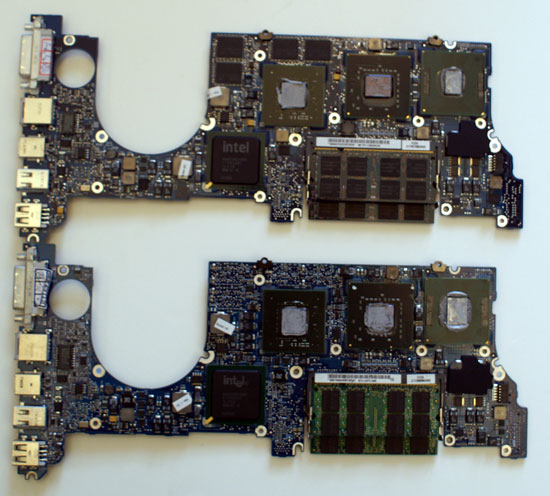 The two MacBook Pro motherboards, as we mentioned before, are virtually identical. At the top you have the new board, and at the bottom we've got the old. The only real changes are a few resistors, caps and VRM adjustments. The new Penryn based board does feature more video memory standard, and thus you see a few more memory chips around the NVIDIA GPU.
And now it's time for the star of the show: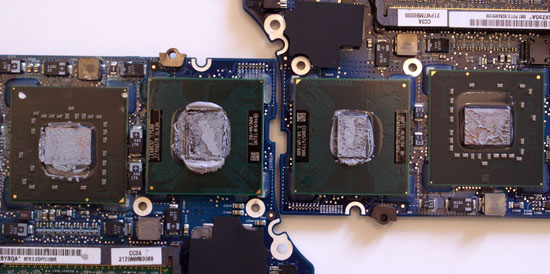 Here we're looking at the two MacBook Pro motherboards butted up against one another. In the middle we have the CPUs: 65nm Merom on the left and 45nm Penryn on the right. It's not tough to tell that Penryn is smaller thanks to the 45nm manufacturing process.
The real question is: how much of an improvement in battery life will we see? And that's what we're trying to find out now...