Crysis Performance
Version: 1.1
Settings: All medium quality settings.
Crysis is the go to game for performance hungry graphics testing today. With beautiful graphics around every corner, even on lower quality settings, this is definitely a game we need to consider when looking at hardware. Unfortunately, the class of card exemplified by the GeForce 9600 GT (in spite of the fact that it offers a nice performance for the money) is unable to handle more than medium quality settings at 1600x1200 without performance hiccups.
For this test, we recorded our own demo using the record and demo console commands. Each test was run three times, and we took the highest score of the three (usually the second and third runs were the same or very nearly so). Our recorded demo consisted of a 20 second run through the woods in the level "rescue" and we verified the performance of our timedemo using FRAPS. The run was near the beginning of the level and we stayed clear of enemies in order to reduce the impact of AI on our graphics benchmark.
For the GeForce 9600 GT and the Radeon HD 3850, performed within 0.5 fps of each other. This is less than our standard 3% margin of error under nominal conditions. The fact that we saw performance this similar between our timedemo and FRAPS is a good indication that the Crysis demo playback feature is fairly indicative of graphics hardware performance in this particular situation. Keep in mind that our numbers will be higher than what readers see in gameplay situations, as physics, AI, and other overhead will come into play.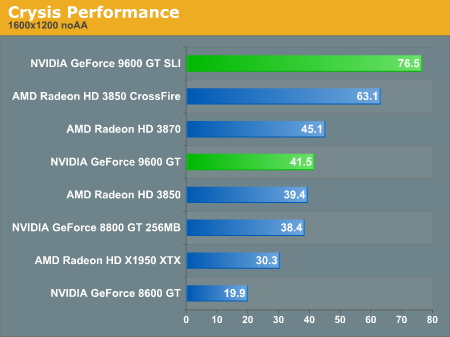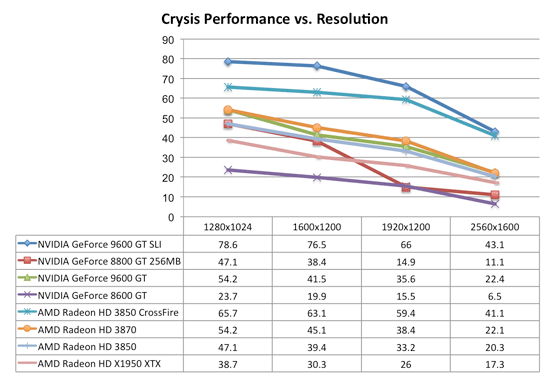 The GeForce 9600 GT comes out swinging with performance between AMD's Radeon HD 3850 and 3870. In addition, it leads the performance of the $200 version of the 8800 GT (the 256MB version). SLI and CrossFire scaling looks to taper off at lower resolutions, so it is likely that we could enable some higher detail settings in those cases without incurring a huge performance hit.