Thermaltake Toughpower QFan 650W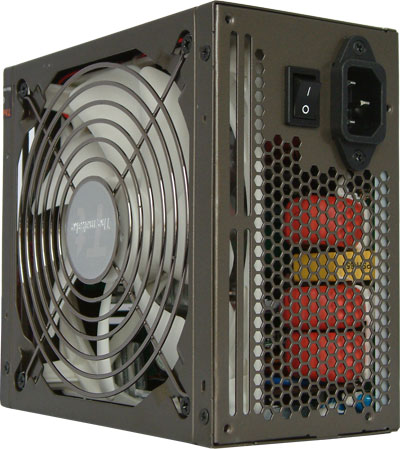 Thermaltake enters the fray with a new feature called QFan. This means the frame is practically left open and the power supply casing has also long punched holes on the sides around the fan. This allows the fan to suck in additional air and - according to Thermaltake - it reduces turbulence and noise. The housing comes in a brown-grayish color that fits nicely with the red Thermaltake highlights we often see on their cases. The packaging is durable and keeps the power supply protected during transport.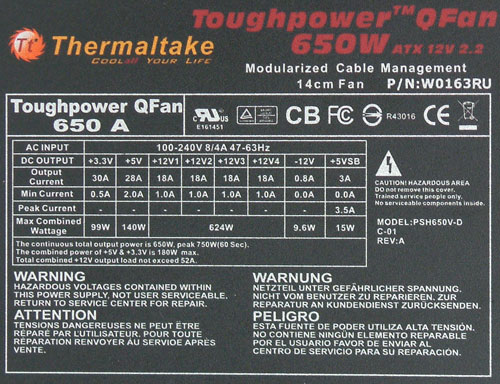 The label looks pretty much like all the others: four separated 12V rails at 18A and a combined power of 624W. The combined power for the lower voltage rails isn't mentioned; only their highest output is written on the label. We'd like to have specific details from Thermaltake, but it's not too much of a stretch to assume that the combined power is going to be similar to the 170W we see on all the other units today.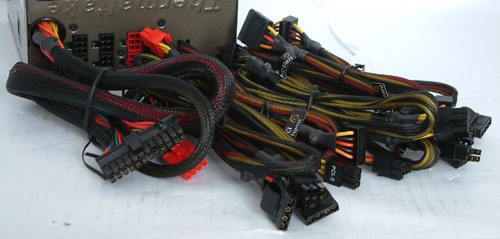 The cables are stored in a quality bag, which is a nice addition. All cables are sleeved up to the first connector. The chassis connection jacks are 6-pin designs, which have proven to be very stable. There are sufficient cables and connectors to provide power to most midrange to moderate high-end systems.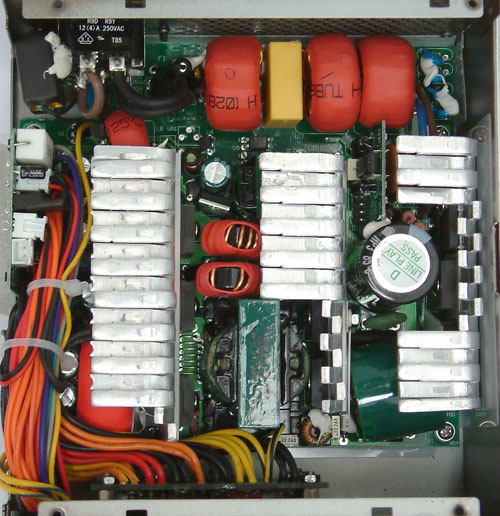 The inside looks an awful lot like two other power supplies we're reviewing today, and in fact we have seen this design a lot lately. It seems that 40% of the high-end market comes via CWT (Channel Well Technology) these days. Thermaltake was actually one of the first with this design, and many others followed. That said, being manufactured by the same company doesn't mean these power supplies are all the same. There are still many differences in terms of component choice and heatsink designs, and this will be reflected in our graphs later - the differences are quite noticeable. What we never liked with this particular design is the heatsinks - they simply don't make much sense. They are made of an aluminum plate punched into the right shape, which is not unusual, as it's an inexpensive way to make a heatsink. The problem with Thermaltake's approach is that there are no gaps to pass air through, so the heatsinks function like an umbrella not letting any air go through to the components under the heatsink. Seasonic is also making their heatsinks in the same way but they at least have enough space in between the fins for the air to pass by. The chosen components are mostly high quality such as the Hitachi capacitor sitting on the primary side and the secondary side is equipped with Samxon capacitors, but the heatsinks are still far bulkier than necessary.