Hiper Type-R MKII HPU-5B680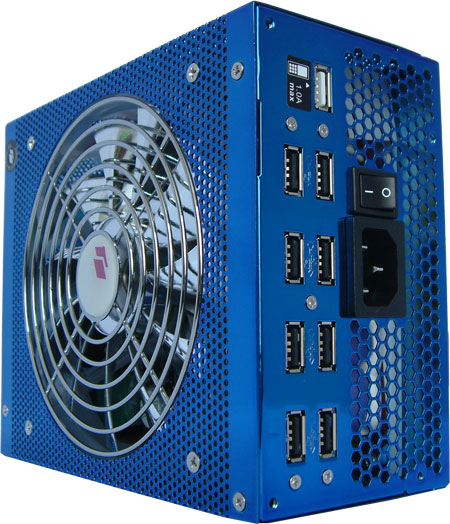 We already reviewed several Hiper power supplies in previous roundups, and today we will be looking at the HPU-5B680. It comes in a shiny blue color, and much of the casing exterior has many small punched holes. According to Hiper these help with cooling, though we've seen opinions elsewhere that these holes will do the opposite and instead disrupt airflow. During our testing, we couldn't really see any good or bad aspects to the holes. The cooling is similar to other CWT-based designs: not really better but definitely not worse. Hiper uses a single large 135mm fan on the bottom to provide cooling, which is silver to match the overall look.
The USB ports on the back of the power supply are a nice touch if you seem to run out of ports. However, most PCs today have enough USB ports for all sorts of applications, and not many people will need eight additional ports (which are actually part of a single USB hub). The one white port does supply power even when the PC is off, and with a maximum 1A users can use it to recharge MP3 players as an example. Even though we can't really say who would need it, but in a crowded market anything that sets your offerings apart from competitors can help.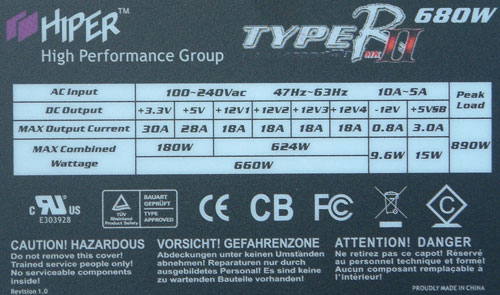 The 680W unit has four 12V rails rated at 18A, once again with a combined power of 624W. The lower voltage 3.3V and 5V rails have a combined power of 180W, typical of today's offerings.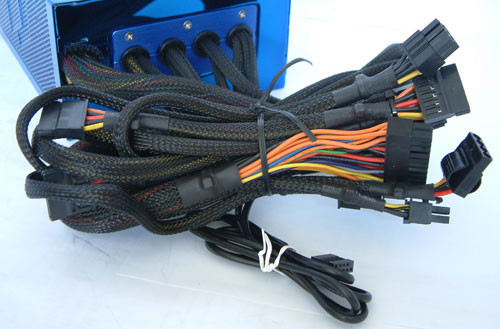 All of the cable harnesses leave the PSU chassis in a slightly different manner than what most are used to seeing. Instead of using a single round exit with a huge cluster of cables, Hiper uses five holes spread across the front, with two harnesses in each one. Hiper says this gives users better access to the cables with the PSU mounted in a case. Hiper does not provide a large number of cable harnesses, instead choosing to provide Y-splitters that attach to the cables connectors. This gives users a better choice of where to put the connectors, which is a good thing. The downside is the added resistance created by the extra connection, even if it's just a very small one not recognizable by most users. For lower wattages, the amount of current coming through these connections isn't that much, so the resistance shouldn't be a problem. However, we wouldn't recommend this type of approach on a 1200W model.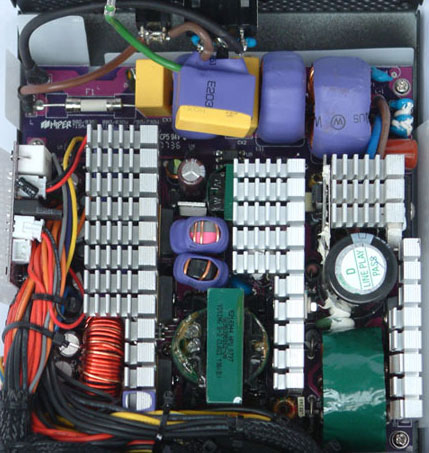 Once we open the housing, the ODM is easily recognizable. This is the first unit of this roundup manufactured by Channel Well, and we'll see two more later. Compared to the units we've seen so far, we see small changes component-wise and different heatsinks. Hiper actually has their own assembly line for their products at the manufacturer's facility. We visited one of Hiper's production facilities in China just after CES this year, and Hiper has a major role in the production and conducts all the quality control.