Monitoring
The ESA standard emphasizes the monitoring capability, and the heart of monitoring is the NVIDIA System Monitor. Note that it is up to individual manufacturers of ESA hardware to decide what items to expose to the software. With ESA clearly targeting the "Enthusiasts", we hope the manufacturers will provide a large degree of monitoring and tweaking access. Monitoring information can be useful, but if that's all a component allows we will be more than a little disappointed. Since NVIDIA is helping manufacturers create the hardware, we do expect a fair number will understand the need to expose access rather than limit it - after all, the price premium needs to provide something other than a clever new acronym. The examples below are what is available on the test hardware, and other manufacturers may offer additional or fewer monitoring and control options via ESA.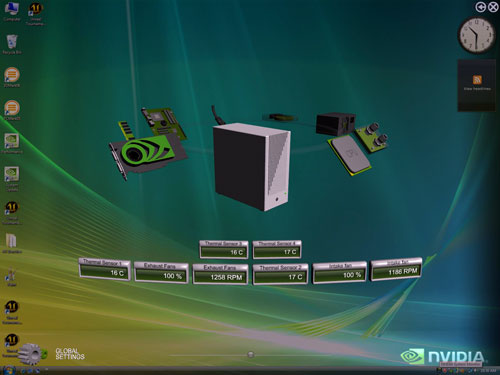 This slick interface in the ESA system treats components as points on a rotating carousel. Select the component you want to monitor and it rotates to the front and displays monitoring data relevant to that component. Here the case shows you temps for four different thermal sensors and intake and exhaust speeds in RPM and their running speed as a percent of maximum speed. It is rare to see the fans at 100%, but in this capture the system has been running at 3.7GHz for several hours.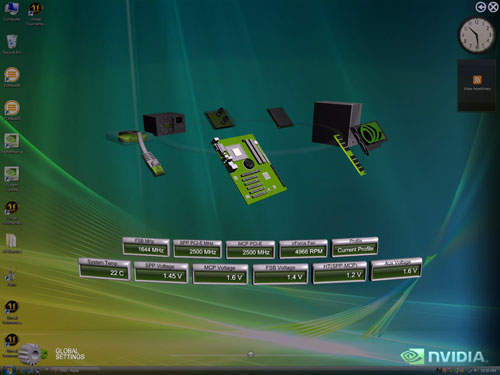 ESA motherboard monitoring can report and control a huge variety of voltages, bus speeds, and fan speeds. Generally, if ESA can monitor a variable then it can also control it. Look closely and you will see the Profile box top right in the data boxes. This feature is extremely powerful in that it allows the end user to set up multiple profiles for various needs such as "Silent", "High Performance", or "Maximum Overclock". The Profile feature is accessed through the NVIDIA Control Panel, which we will examine on the next page.
As system speeds and power demands have skyrocketed, the need for better control of the Power Supply has grown dramatically. ESA can potentially monitor and control a huge number of PSU voltages and report the temperature of both the PSU and the Coil.
CPU monitoring reports individual usage and temperatures by core on multi-core CPUs. ESA is not just about the highest benchmark score. Critical CPU voltage, multipliers, and resulting core clock can also be monitored and adjusted. In its present state the ESA interface really consists of two parts - NVIDIA Monitor for checking the data and NVIDIA Control Panel for adjustment.
With all that's going on inside the CoolIT Freezone Elite it was a bit surprising to find that coolant temperature was about all we could see in the ESA monitoring. That is certainly the most important parameter to monitor and control on any liquid cooler, but manufacturers can implement whatever they wish in their ESA interface. We suspect you will see ESA coolers monitoring and controlling many more variables in future cooling solutions.
The NVIDIA System Monitor is very stable and robust at present. It seems to be up to the task of monitoring and reporting just about anything asked of it. Our only real concern is what level of access various components will provide, but it appears that will have to be taken on a case-by-case basis.