Thermals
My MacBook Pro got hot, unreasonably hot. So hot in fact that it couldn't really be used on my lap without me getting really sweaty or burnt after a while. The CPU in the MacBook Air is a 1.8GHz Core 2 Duo compared to the 2.0GHz Core Duo in my old MacBook Pro, however it is a lower voltage chip.
The lower voltage, lower clock speed, more power efficient architecture and the maturity of Intel's 65nm process all contribute to the Air having a reasonable thermal footprint.
During normal use the Air gets warm but not too uncomfortable to use on your lap. If you're doing more than just typing/browsing with it, the system can get too warm to use on your lap. It definitely got there for me a few times while putting together this article, but it may vary depending on your tolerance for heat on your lap (and your desire to become infertile).
It's still miles better than my old MacBook Pro and for the most part I can use it as a laptop, but it does still get borderline uncomfortable once the CPU heats up.
The hard drive itself doesn't generate a lot of heat, which is surprising given that it's got a platter spinning at 4200RPM inside of it.

Air comes in and out of there
The MacBook Air does have a single fan to cool the entire system and it's not difficult to hear when spun up. It never gets as loud as the fan in the MacBook Pro but you're aware that it's working.
Strange Issues
Despite being a first generation Apple product, I didn't have too many really odd issues with the MacBook Air. After replacing the hard drive the drive would sometimes not be detected by OS X, but that ended up being an issue with the connector not being seated properly.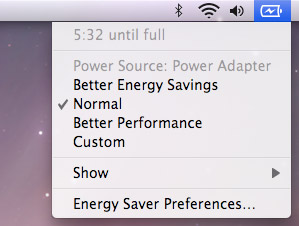 Excuse me, it's going to take how long?
The biggest issue I ran into was that while the system would normally only take around 3 hours for a full charge, on two separate occasions it took nearly 8 hours to charge. A number of users have complained about similar problems on Apple's support forums, but for me the problem disappeared after the two isolated incedents and hasn't returned since.