Battery Life
When Apple announced that the MacBook Air would have a 5 hour battery life I couldn't help but laugh. As Charlie over at the Inquirer pointed out, Apple did nothing new with the MacBook Air. The tough engineering was done by Intel and the component suppliers, Apple simply designed the chassis. Because Apple is doomed to use off the shelf components like everyone else, there's no magical way Apple can deliver 5 hours of battery life where its competitors have failed.
Close to 5 hours is attainable on the Air, but only in a very light usage scenario. Realistically you're looking at 2 - 4 hours of battery life out of the MacBook Air depending on what you're doing. In order to help set expectations, we've got a few battery life tests we put together (the descriptions of the tests were mentioned earlier on the SSD battery life page).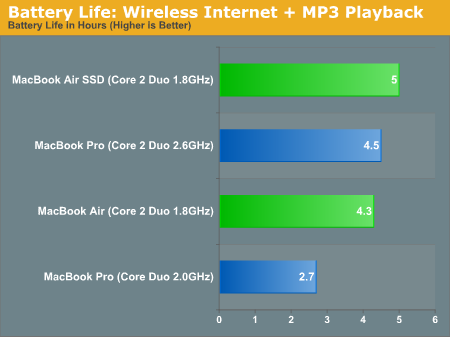 Apple's 5 hour claim is laughable but not as much as I expected. If I wanted to I suspect I could hit 5 hours by making the web browsing test less stressful, but my focus was on real world usage scenarios, not proving Apple correct. Regardless, 4 hours and 16 minutes doing what I consider to be the intended usage model of the Air is respectable. It's not great, but it's not terrible either.
The SSD improves things considerably, and it's worth noting that the fastest MacBook Pro can also offer similar battery life despite having a more power hungry CPU and screen (thanks to a larger 60WHr battery). The aging Core Duo based MacBook Pro put up an absolutely dismal time, which just goes to show you how much things can change in two years.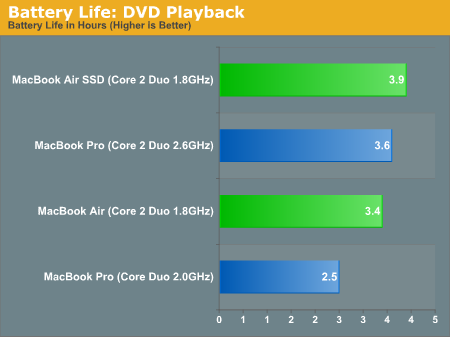 The DVD playback test is also decent, you can watch a full length movie on the Air (even The Godfather). But watching two back-to-back isn't possible (although I do think you could squeeze two viewings of Rambo in there and frighten your fellow airline passengers).
Once again we see that the Air gives us better battery life than the original MacBook Pro, and a time that's competitive with the fastest MacBook Pro. Armed with an SSD, the battery life is the best Apple offers today.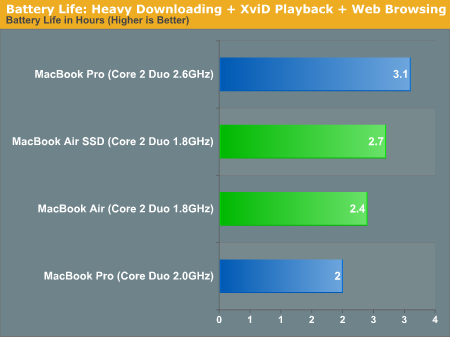 And then we have the multitasking scenario. At just under two and a half hours, this isn't your do-everything notebook. That should've been obvious from the get-go with the whole lack of an optical drive, 2GB memory limit and no built-in Ethernet port. The MacBook Pro advantage here is the greatest it has been in all of our tests, giving almost 30% more battery life than the standard Air.