General Performance
CINEBENCH R10
CINEBENCH places a heavy load on the CPU during the rendering tests, and can utilize a single CPU or multiple cores. The video subsystem has no bearing on the CPU rendering portion of this benchmark. Results from a previous review of the Shuttle SG33G5, configured with a Q6600, are included for reference.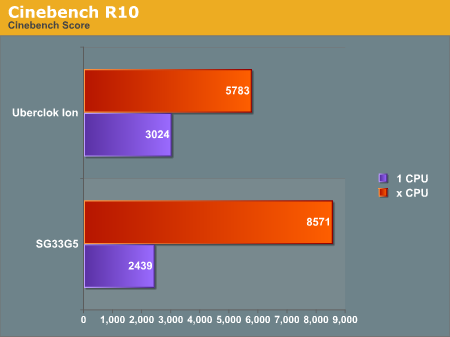 The 3.0 GHz speed of the Ion edges out the 2.66GHz Q6600 in the single-core test, despite having less cache, but the extra two cores are apparent in the multi-CPU test. This is essentially a best-case scenario for multiple cores, as most games and many applications do not yet effectively utilize multiple cores.
PCMark 2005
PCMark 2005 uses a number of applications to simulate real-world system usage and provide a performance measurement. Some of these tests focus solely on the CPU (file compression and decompression, encryption, etc.), while others utilize the video subsystem (e.g. 3D Fill Rate, Pixel Shader).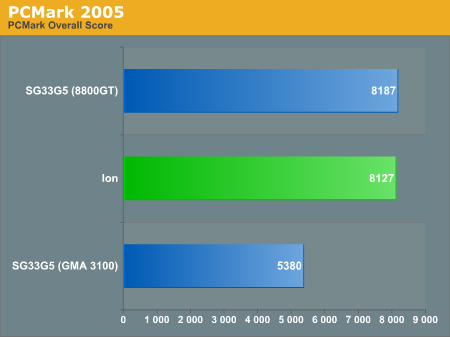 PCMark indicates that performance of the Ion should be very close to the Shuttle system - we'll see if that holds true or not for gaming.
Encoding
We used DVD Shrink 3.2 at default settings to test general encoding performance. We ripped the test file (The Matrix) to the hard drive, with the 2.1 audio tracks removed to improve video quality.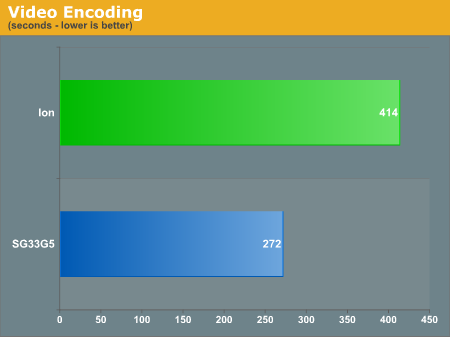 Encoding is another area where multiple cores really shine, and the Ion gets smoked by the Q6600 in the Shuttle. Still, just under 7 minutes is a good time for the E4500; the overclock gives it a nice boost.
Now let's see how this gaming machine performs in that role.