Not long ago we had a long talk with PC Power & Cooling founder Doug Dodson about power supplies and the question came up why there aren't lower wattage power supplies with enough PEG connectors to support higher end graphics card setups. The reason why will be answered shortly but Doug also agreed to build us a custom power supply based on the newly introduced Turbo Cool 860. The article about that power supply is already online, and as a follow-up we wanted to post this interview.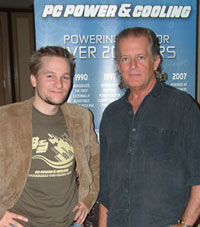 For the curious, that's Christoph on the left and Doug on the right…
We met Doug and the PC Power / OCZ crew at this year's CES show in Las Vegas, and he took the time to answer a few questions we had. We have three topics to cover: Technology, Markets, and Work. These will concentrate respectively on the technology offered by PC Power & Cooling, the newly extended markets created by the acquisition from OCZ, and how the work changed during this time until today.