After our initial launch article on the Radeon HD 3870x2, we decided to run a quick sanity check and make sure that our positive experience wasn't overly limited by the games we tested. We wanted to make sure that this card really acts like a single card as our first account seemed to indicate.
After a few more days with the card, playing with various features and alternate games that we didn't address in our first article, we've been able to draw a few more conclusions about the hardware. Our initial assessment certainly wasn't without merit. Again, we didn't have any compatibility or driver problems, and CrossFire was completely transparent. Not only are there no physical settings to worry about (like the 7950 GX2), but there were no driver settings to mess with either (unlike the NVIDIA solution). We didn't have to fiddle with anything, and it just worked.
Single cards aren't just about gaming and physical hardware. We would also expect a single card to behave like a single card in all usage situations. To that end, we wanted to make sure that multi-monitor support was on par with a single card. In the past, multiGPU solutions have required that only one monitor be enabled in conjunction with multiGPU rendering. With no driver setting to toggle, does this mean no multi-monitor support or that one display would blank when CrossFire kicked on?
AMD has addressed these issues very well in this case. Games are fully multiGPU accelerated even when multiple monitors are enabled, thus no separate CrossFire switch and no display blanking.
Just to confirm, we hooked up a second monitor and turned it on while we played gears of war. Our framerates were on par with what we were seeing when only one monitor was enabled. In order to show you guys what it looks like, we ran it in a window to get this screenshot.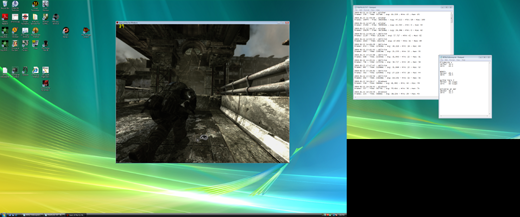 It is worth mentioning that running in a window did hurt framerate as compared to running the game full screen. AMD has pushed the fact that their new hardware is capable of fully accelerating windowed 3D based on how it manages clock speed with respect to work load, so we aren't quite sure why we are seeing this behavior. The important thing is that gamers no longer need to disable secondary monitors in order to play their games with a multiGPU solution.