Introduction
A short while ago, PC Power & Cooling (PCP&C) revealed its latest addition to their portfolio: the Turbo Cool 860W. It does not use the same topology as the 1000W and 1200W power supplies from the same series, which we will see later when we open the unit up. Today we will be looking at a special unit we received from PCP&C. The company was nice enough to build a special edition PSU that includes extra cable harnesses and connectors - all according to our specifications. Our unit is ready for Triple-SLI with six 6-pin PEG connectors, three of which also perform double duty as 8-pin PEG connectors. On top of that, we asked for 15 SATA connectors to power up some special tests we will be working on this year.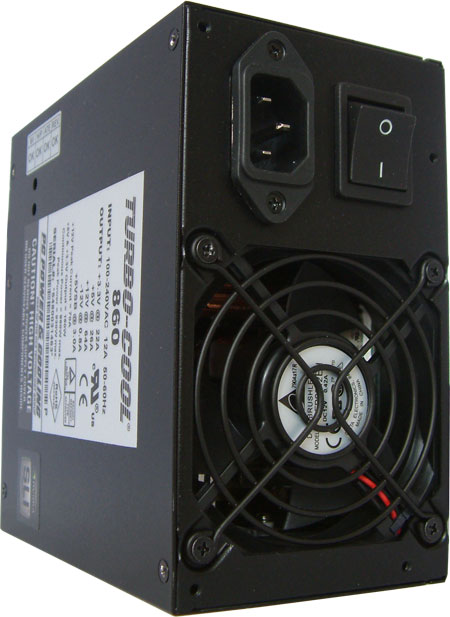 We met PCP&C founder Doug Dodson at this year's CES in Las Vegas; we had the chance to conduct an interview with him that we will publish soon as well. With the 860W version of the Turbo Cool series, PCP&C again targets the higher-end enthusiast market with the need for long lasting industrial standard power supplies. One special feature is the three small potentiometers that allow the user to tune the voltage regulation of the 3.3, 5, and 12V rails.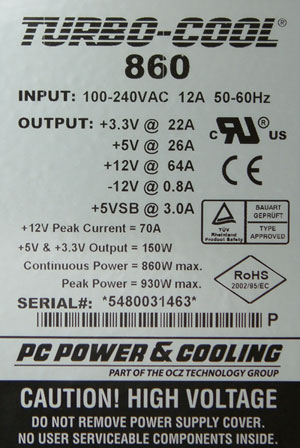 The label shows PCP&C's general approach to power supplies. We see a single 12V rail, which according to Doug is the best solution for power supplies. We are still waiting for our 15 hard-drives to arrive, but we have talked with at least one AnandTech reader that successfully powered up 18 hard-drives with a single-rail Silencer 750W where all multi-rail power supplies failed. The 12V rail provides a total of 64A and consumes up to 768W of power. In fact, the peak power is around 840W solely on the 12V rail, and our unit was able to reach 967W peak power during the tests. The 3.3 and 5V rails are rather small with only 22A and 26A, but that shouldn't be a problem.