Board Layout, Features and Specifications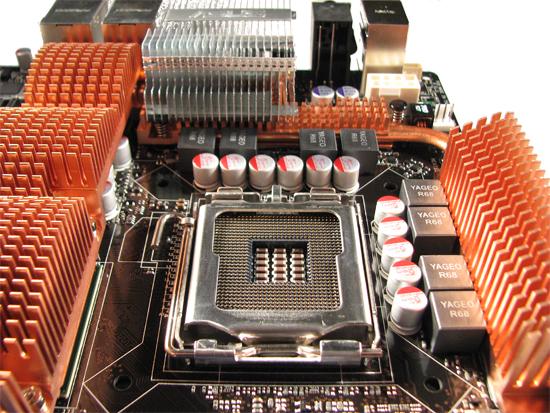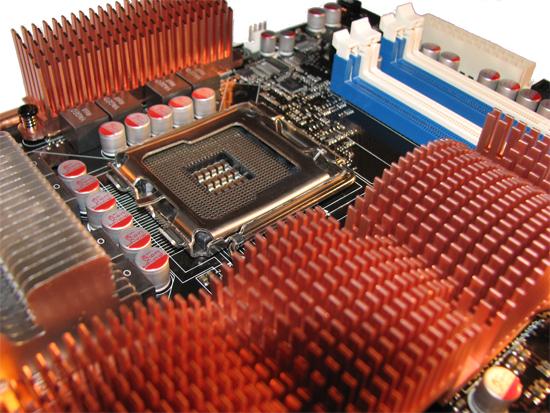 The ASUS Rampage Formula makes use of a beefy 8-phase PWM solution. The copper heatsink covering the MOSFETS is actually not thermally coupled to the Northbridge or the Southbridge as the cooling solution consists of two separate blocks. The hold-down mechanism for the X48's high quality heatsink is comprised of four tension screws attached to a backplate on the opposite side of the board. Besides changing the thermal paste ASUS utilized, we feel there is nothing that needs modification by the end user as long as overclocking aspirations are within reason.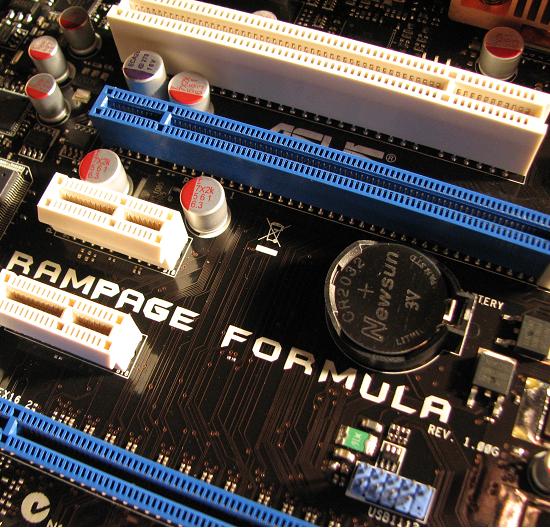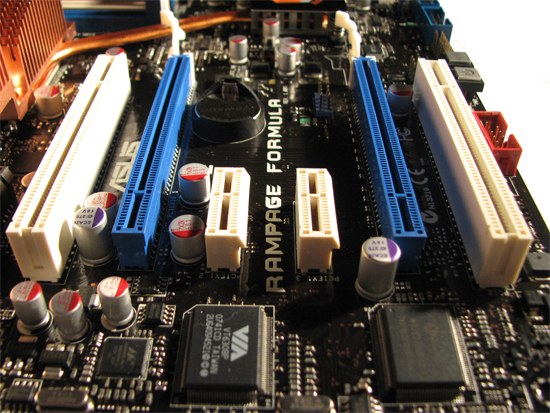 Two full x16 PCI-E 2.0 slots are available for official CrossFire support and the spacing is appropriate. We would have liked an additional PCI slot, for a total of three, instead of the three x1 PCI-E 1.x slots.
Six onboard SATA headers are on the right side of the board, each at 90 degree angles. This made inserting and removing cables easy, even with two full-length video cards installed.
One feature we particularly like is the volt-minder LEDs - one each for the CPU, Northbridge, Southbridge, and memory slots. Each can be one of three colors - green, yellow, or red - and they are useful for determining at a glance the approximate voltage being fed to each component. Green represents "safe" voltages, yellow is elevated (high), and red means "crazy high." Crazy high is just that too, as the board won't set the light red for the CPU voltage until it eclipses about 2.025V.
ASUS R.O.G. Rampage Formula
Market Segment
Gamer / Extreme Performance - $299.99 (estimated)
CPU Interface
Socket T (LGA-775)
CPU Support
LGA775-based Core2 Duo, Core2 Extreme, or Core2 Quad recommended, including next-generation 45nm compatibility (06/05B/05A processors)
Chipset
Intel X48 Northbridge (MCH) and ICH9R Southbridge
CPU Clock Multiplier
6x ~ 11x, downward adjustable for Core2, upward to 31x for Extreme, half-multiplier support for 45nm processors
Front Side Bus Speeds
Auto, 200 ~ 800 in 1MHz increments
System Bus Speeds
1600/1333/1066/800 (MHz) with Official DDR-1066 Support
DDR2 Memory Dividers
1:1, 6:5, 5:4, 4:3, 3:2, 8:5, 5:3, and 2:1 (dependent upon strap setting)
FSB Strap
Auto, 200, 266, 333, 400
PCIe Speeds
Auto, 100MHz ~ 180MHz
PCI Speeds
Locked at 33.33MHz
DRAM Voltage
Auto, 1.80V ~ 3.40V in 0.02V increments, 1.80V standard
DRAM CLK/CMD Skew CA/CB
Auto, Manual (Advance/Delay 50ps ~ 350ps in 50ps increments)
DRAM Timing Control
Auto, Manual - 20 DRAM Timing Options (tCL, tRCD, tRP, tRAS, tRFC + 15 sub-timings)
DRAM Command Rate
Auto, 1N, 2N
DRAM Static Read Control
Auto, Enabled, Disabled
Ai Clock Twister
Auto, Light, Moderate, Strong
Ai Transaction Booster
Auto, Manual
Common Performance Level
1 ~ 31 (settings above 14 prevent POST)
CH A/B Phase Pull-In
Based on Memory Divider, All Phases Adjustable (Enabled/Disabled)
Core Voltage
Auto, 1.10000 to 1.60000 in 0.00625V increments then 0.05V increments
CPU PLL Voltage
Auto, 1.50 ~ 3.00v in 0.02V increments, 1.50V standard
FSB Termination Voltage
Auto, 1.20V to 2.00V in 0.02V increments, 1.20V standard
North Bridge Voltage
Auto, 1.25V ~ 1.85V in 0.02V increments, 1.25v standard
South Bridge Voltage
Auto, 1.050V ~ 1.225V in 0.025V increments, 1.050V standard
SB 1.5V Voltage
Auto, 1.50V ~ 2.05V in 0.05V increments, 1.50V standard
Loadline Calibration
Auto, Enabled, Disabled
CPU Voltage Reference
Auto, x0.63, x0.61, x0.59, x0.57
NB Voltage Reference
Auto, x0.67, x0.63, x0.60, x0.57, x0.56, x0.53, x0.51, x0.49
Memory Slots
Four 240-pin DDR2 DIMM Slots
Dual-Channel Configuration
Regular Unbuffered, non-ECC DDR2 Memory to 8GB Total
Expansion Slots
2 - PCIe 2.0 x16, Supports ATI CrossFire Technology
3 - PCIe (1.x) x1, (1) is Compatible with Add-in Audio Card
2 - PCI Slot 2.2
Onboard SATA RAID
6 SATA 3Gbps Ports - ICH9R (RAID 0, 1, 5, 10)
Onboard IDE (PATA)
JMicron JMB368 PATA Controller (up to two UDMA 133/100/66 devices)
Onboard USB 2.0/IEEE-1394
12 USB 2.0 Ports - (6) I/O Panel - (6) via Headers
2 IEEE-1394(a) Ports - (1) I/O Panel, (1) via Header
Onboard LAN (with Teaming)
Realtek RTL8110SC - PCI Gigabit Ethernet controller
Marvell 88E8056 PCI Express Gigabit Ethernet controller
Onboard Audio
ADI 1988B - 8-channel HD Audio CODEC
Power Connectors
ATX 24-pin, 8-pin ATX 12V
I/O Panel
1 x PS/2 Keyboard
2 x SPDIF - (1) Optical Out, (1) Coaxial Out
1 x IEEE-1394a
2 x RJ-45 (LAN)
6 x USB 2.0/1.1
1 Clear CMOS Switch
Fan Headers
8 - (1) CPU, (1) Power, (3) Chassis, (3) Optional/Misc.
Fan Control
CPU and Chassis Fan Control via BIOS/Extreme Tweaker, PC Probe II monitoring
BIOS Revision
v0108
Board Revision
1.03G
The ASUS Rampage Formula provides an impressive range of setting specifications. We would go so far as to say that more than a few of these are simply ridiculously high; however, there are sure to be a few people that require these options. A couple of the higher settings to pay attention to: CPU voltage well above 2.0V, CPU PLL voltage to 3.0V (sure to kill your chip super quick), FSB Termination voltage to around 2.0V, and DRAM voltages over 3.4V. While we certainly must commend ASUS on their fine range of control we also feel the need to strongly caution users when working with some of these settings. It's entirely possible to damage or destroy your chipset, CPU, or memory when moving to the extreme limits of these ranges; sometimes less is more.
As we have discussed before Loadline Calibration is best left disabled, especially when using the newer 45nm CPUs. Our testing has shown these settings induce power instabilities, even when using lower voltages. In addition, when enabled the option sometimes requires more CPU voltage than would otherwise be necessary, meaning increased power dissipation and higher temperatures.
Of note, the Rampage Formula allows for half-multiplier usage. This is particularly useful when working in the higher FSB ranges. Because all Core 2 Duo/Quad CPUs are downward unlocked, every half multiplier between the processor default value and 6 can be used, with the exception of 6.5x. For the Extreme processors, this limitation has been relaxed allowing for multipliers as high as 31x in half steps. Besides providing finer CPU frequency control, half-multipliers permit a wider choice of final multiplier/FSB combinations, which can help when choosing the best operating point for the processor and memory. Now that we have experienced what these new values have to offer, it will be hard to work with anything else.
As we pointed out before, "Ai Transaction Booster" is completely revamped for this board series. Setting this option to manual allows the user to take full control of the "Common Performance Level", meaning that all memory phases will baseline at the value as set. Each individual phase can then be "pulled-in" or left as is. "Pulling-in" a phase reduces just that phase's associated tRD value (performance level) by one. Like memory timings, lower values are tighter and thus provide better memory read performance and lower latencies. If all phases are pulled-in, this is the equivalent of selecting the next lower common performance level and performs identically to this new setting. Thus, pulling-in particular phases can allow the user to affect a minor performance improvement if selecting the next lower common performance level is not possible.