Using DES - How to?
Explanation of features
The GA-X48T-DQ6 we are using for our testing today uses the Intersil ISL6327 PWM controller. Intersil has made the power saving features of their VRM 11.1 specification controllers versatile enough to allow multi-step phase and voltage control on-the-fly. This in turn has allowed Gigabyte to produce a software based user control panel for the controller, so that users can turn some of these features on or off as required. Let's take a look at the key features of the D.E.S. GUI.
Dynamic Voltage: This is a three step Vcore reduction feature. Each stage will subtract a level of Vcore from the stock processor VCore value. In the case of our QX9650 stock voltage is 1.223V. Stage 1 reduces Vcore by 0.052V, Stage 2 by 0.062v and stage 3 by 0.085V. These values are subtracted from the stock Vcore value, and are not user controllable.
Dynamic Power Phase: This function becomes active when the Dynamic Voltage function is set between 1 and 3. The Intersil 6327 controller allows for either 2,3,4,5 or 6 phase operation. Gigabyte refers to this phase switching capability as "5 gear" control. The number of active phases is shown as cycling cylinders in the GUI interface of DES. The number of active phases when DES is enabled is automatically varied according to the load placed upon the CPU. In the case of Gigabyte's flagship GA-X48T-DQ6 motherboard, the number of active cylinders shown in the DES GUI must be divided by two to reveal the actual number of active phases. Remember, the GA-X48T-DQ6 uses a 6-phase PWM supply and not a 12-phase supply as commonly thought. Gigabyte uses parallel inductors in this design, meaning there are twice as many PWM inductors (the small square devices with R80 printed on them near the CPU socket). For many users, this wrongly creates the illusion that this is a 12-phase power supply.Gigabyte has probably used 2 off the shelf components, rather than sourcing a more expensive large single component of equivalent value.

Low load conditions using a QX9650 results in the CPU power supply switching to 2-phase mode. Meanwhile, 100% processor loading results in 4-6 phase operation depending upon current draw and PWM MOSFET temperatures.
CPU Throttling: This function sets the level of performance throttling. Selecting "On" enables a higher level of throttling based upon CPU loading than when this function is set to "Off". The effects of this function can be seen in the 3D mark 06 scores results below;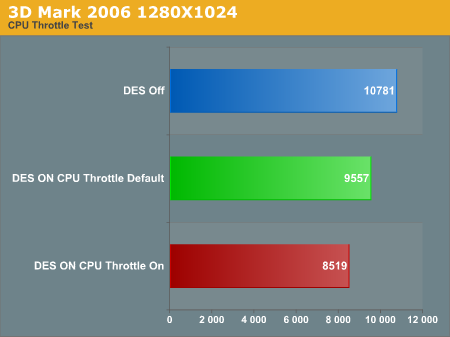 It is clear that the "throttling" function has an impact on system performance at a given processor speed. For web browsing or word processing applications, the use of the CPU throttling function is unlikely to bring a noticeable degradation to perceived performance. For gaming, setting the CPU throttle function to "Off" is obviously the best bet to maximize frame rates.
A Few Pre-Requisites for Full Use of DES
Intel's own power saving features known as C1E and EIST must be set to disabled before DES gains full control of altering processor core voltage on-the-fly. It is also important to point out that full operational use of DES is limited to stock (Auto) BIOS settings for both processor and memory busses.
A back door to overclocking is available via Gigabyte's CIA2 dynamic overclocking setting. However, full use of the available CIA modes is limited by the preset VCore levels that DES employs (see the DES power draw tables for the static VCore values used by DES). For example, the maximum CIA2 level of "Full -Thrust" overclocks our QX9650 to 3.725GHz under load, which is too high for stability even with a DES level of 1 selected.