The Hardwdare
The basic architecture of the 3600 and 3400 series isn't any different from the 3800 series. All cards support DX 10.1, UVD, PCIe 2.0, and is fabbed using a 55nm process. The specific features of each card are as follows: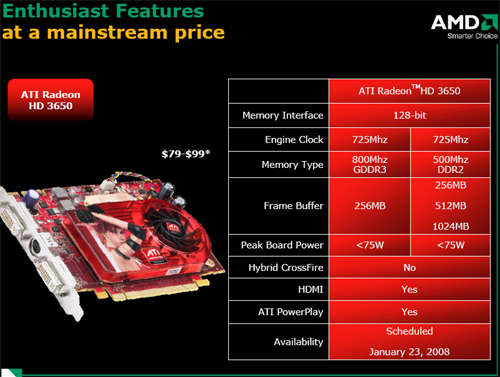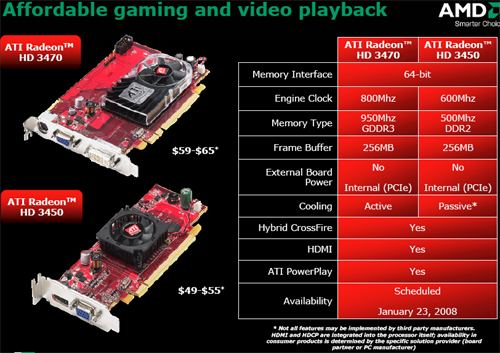 The new parts are all slated to be sub $100, and the lowest end option is set at $50. This high volume market is key because it defines base line add-in graphics performance going forward. For DX 10.1 compliant cards, these are the base line, and when developers start targeting that as a minimum spec these cards will need to be considered.
None of these cards require external power, as they all come in at under the 75W available from the motherboard. The low end 3450 can be built with passive cooling, but all the other options require some sort of active cooling. These should also make good HTPC cards, as they support full HD resolution and all UVD features. The 3470 is needed for upscaling to the highest resolutions, but for a 1080p television the 3450 should be alright. It does seem a bit lopsided to pair a 2560x1600 monitor with a sub $100 video card anyway. We will certainly test all this out when we get the chance.
We can see from the hardware specs that these new cards will outpace current offerings from AMD at the same price points. This should be a nice change from the recent trend of updating a lineup without offering any real performance incentive over older hardware in the low end and midrange arenas. AMD is reporting some very nice looking improvements, but we'd rather wait until we run our own numbers to talk about what to expect.
In addition to the hardware specs above, these new parts do introduce some new technologies. Both the 3600 and 3400 lineup support DisplayPort with the first on silicon implementation in the industry. The 3400 series also supports Hybrid Graphics which combines the power of on-board and add-in graphics to increase the potential graphics power for cheap hardware.