Noise Levels
For many enthusiasts upgrading cooling the goal is maximum stable overclock, and they will live with the inconvenience of a louder system. For other users silence is the most important factor, and these users will forgo maximum overclocking if that increases system noise levels.
The specified 39 dB(A) seems realistic for a 120mm high-output fan, but ZEROtherm did not specify whether this noise measurement was at low speed or high speed. We expected the specification was low-speed noise, so the high-speed noise measurement was an unknown.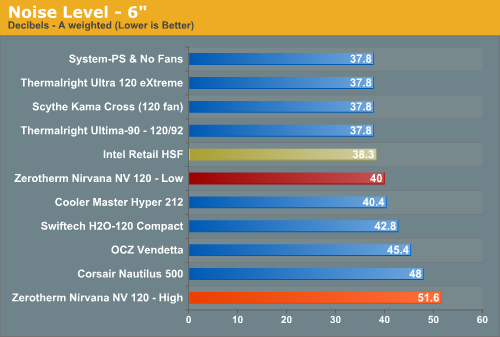 Test Results at stock speed with the Nirvana are spectacular, but you can see from the noise graphs that the performance comes with the trade-off of higher noise. You can clearly see the high noise levels at the high-speed setting in these graphs, and you can definitely hear the fan. However, the sound and frequencies are not high-pitched or whining and are generally easy to tolerate. Closing the case brings the noise levels down to near silence even at top fan speed. For most users with a closed case noise at top fan speed will not be a large issue unless they are sleeping next to the operating PC.
At low speed, the fan is essentially silent, but we found performance average at low speed with no real threat to the top performers. You can dial a nice balance in with the fan controller of the Nirvana, however. Performance at around 2000RPM is almost the equal of that measured with the fan on high, and competitive with the best coolers tested. Even better, noise levels at ~2000RPM are generally not audible in our test room and will be acceptable to most users.
Overclocks at 2000RPM do not reach as high, topping out at 3.87GHz. Most will find this compromise of performance versus noise very acceptable, and this is still one of the best coolers we have tested no matter how you measure the performance and noise.