SUBZERO BENCHMARKING with the Gigabyte GA-X48T-DQ6
The "official" release of Intel's X48 chipset is on the horizon, which means the major manufacturers are readying their products for release. We already have several X48 boards in-house that we are running through the paces and feel confident enough to start providing a few unique performance previews over the coming days.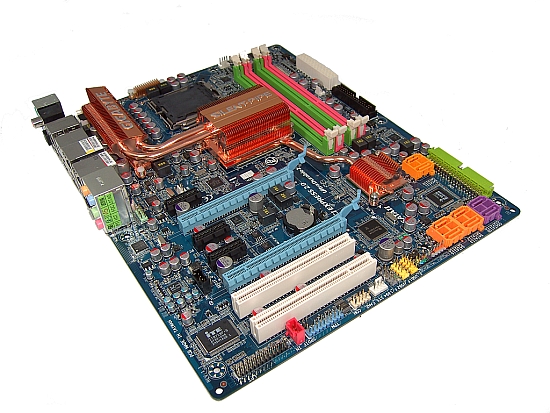 The first board up is Gigabyte's GA-X48T-DQ6 that features DDR3 capabilities and a whole host of technology improvements such as Dynamic Power Saver (DPS), improved components and circuitry layout, auto DDR3-1900 overclocking via XMP, and 2-phase power designs for the X48 MCH chipset and memory slots. We will provide an overview into these features, BIOS design, and complete performance results in our next article, but for now, let's see how this board performs when pushed to the limit with our Cascade cooling setup.
Test Setup
Gigabyte GA-X48T-DQ6
Overclocking/Benchmark Testbed
Processor
Intel Core 2 Quad QX9650
Quad Core, 3.0GHz, 2X6MB Cache, 9x Multiplier, 1333FSB
CPU Voltage
1.80V
Cooling
Dual Cascades by LittleDevil & Johann Marais
Power Supply
PCP1200W
Memory
2x1GB OCZ DDR3 PC3-14400 (DDR-1800) Platinum Edition
Memory Settings
Various
Video Cards
ASUS 8800 GTS 640MB
Video Drivers
NVIDIA 169.25
Hard Drive
Western Digital 7200RPM 250GB SATA 3/Gbps 16MB Buffer
Optical Drives
Plextor PX-B900A, Toshiba SD-H802A
Case
open Test Bed - Dimastech Benching Station
BIOS
F3C
Operating System
Windows XP SP2
.
We have been fortunate to spend the last few days benchmarking this board before feeling comfortable enough with the last BIOS release to use our cascade cooling setup. We initially started using an E6850 processor but found FSB limits a little lower than we had anticipated. Gigabyte sent us a number of BIOS revisions that greatly improved overclocking and memory timings, but we found that nothing over 540FSB on our E6850 would hold steady. This CPU managed between 540-570FSB on the Asus Maximus Extreme.
Although extreme benchmarking with our QX9650 Quad core CPU had not been pleasant for us in the past on a variety of different motherboards, we decided to have another run at achieving speeds that had previously eluded us on the X38 boards. Our QX9650 processor has a cold boot issue at -61 Celsius and idle shutdown temperature of -94. So we knew we would be in for a rough time cycling our cascades to remain below this boot-up temperature. Gigabyte's Easy Tune 5 software was very useful in helping us to maintain a steady evaporator temperature (below idle shutoff) by allowing us to adjust CPU Vcore on the fly in Windows. Without this ability, we would not have completed our benchmarks today. Let's take a quick look at our initial results.