Exploring the Limits of 45nm Silicon
During the course of our testing we made a rather interesting discovery regarding 45nm silicon scaling: a window exists in which CPU frequency responds in a highly proportional manner. Calculating this value later tells us that between 3.0GHz and 4.0GHz our processor requires ~0.3mV (0.0003V) more Vcore for each one megahertz increase in core frequency. Since our QX9650 is capable of running the stock 3.0GHz setting at only 0.98V, this means that achieving a stable 3.6GHz overclock requires 0.98V + (0.3mV/MHz)(600MHz) = 1.16V. This general trend continues all the way to about 4.0GHz where we found total stability at an amazingly low 1.28V. We cannot help but feel excited about Intel's new 45nm process, especially considering such early maturity.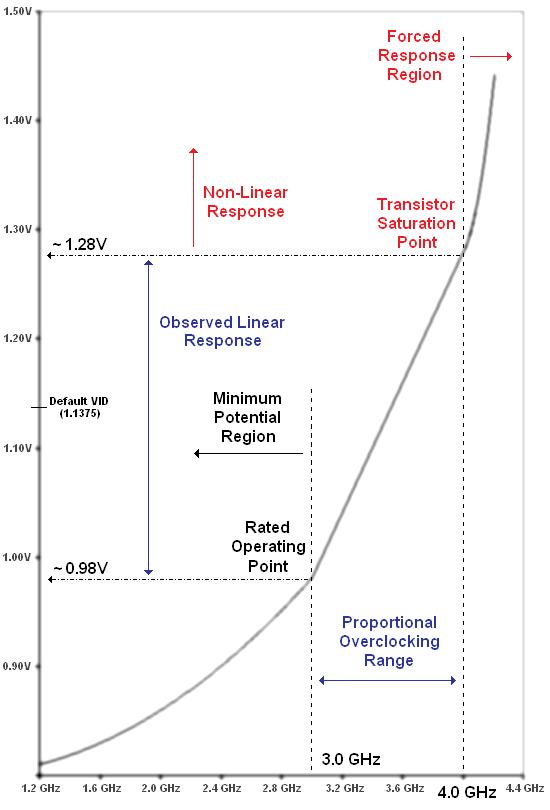 Always target the higher end of the Proportional Overclocking Region
Dropping below 3.0GHz allows us a chance to experiment in the world of low-voltage (LV) and ultra low-voltage (ULV) clocking. Two point four gigahertz (2.4GHz) was possible at only 0.90V. Additionally, the lowest possible core speed that we could dial-in using the ASUS P5E3 (6 x 200MHz = 1.20GHz) had no problems maintaining stability at only 0.81V. It's interesting to note that this is also the lowest Vcore we could supply the CPU, as VID settings below 0.85000 were not available for use. As an aside, the VRM 11.0 specification, used extensively by motherboards supporting 65nm CPUs, calls for selection values down to 0.70000V.
As expected, pushing the QX9650 above 4.0GHz, although possible, also demands more Vcore than predicted by our simple scaling equation. In fact, running well in excess of this speed requires a nearly exponential increase in voltage. At this point gains are small and generally not worth the extra heat produced because of the excess power consumed. Clearly, the more efficient silicon switching that comes with better cooling is needed if we planning to go much higher. Oddly enough, for the first time in water-cooled quad-core history, we feel as though heat is not the limiting factor. Rather than push this finding aside, we decided to examine the cause a little more closely.

We start our investigation by comparing our measured processor power consumption values with those found through use of the well-known power scaling equation (shown above). The equation wonderfully predicts what we see at lower frequencies but quickly falls behind actual measured values when looking at higher speeds: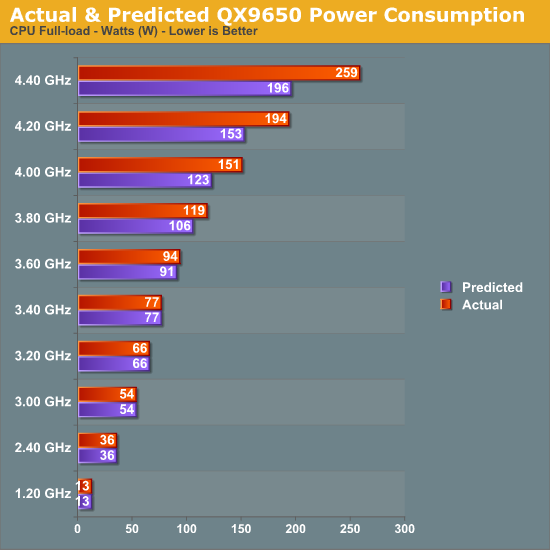 A quick check for clues as to the differences turns up one important oversight. Intel's newest power prediction equation includes an extra factor - processor capacitance. Research indicates that the capacitance associated with the transistors gates has become quite significant; possibly more so with 45nm Hi-k transistors than those made using any other previous process technology. We decided to establish the region boundary in the plot above using the point in which this effect became significant, even though the extra transistor capacitance created at higher switching frequencies begins to manifest itself as additional power required at lower processor speeds (around 3.6GHz). At 4.0GHz this additional factor accounts for 25% more power than would otherwise be predicted.
Although we cannot explain exactly why capacitance becomes such a large factor at higher speeds, average core temperature may be a factor. This would certainly help to explain why microprocessors experience such dramatic increases in switching efficiencies when super cooled. Typically, a processor needs significantly less voltage in order to run equivalent speeds under phase-change or liquid nitrogen than would be required with typical air or water-cooling. In fact, based on what we have seen, these 45nm processors may be the first of many in which overclockers find they reach silicon limits before anything else. In the past, it was comforting to know that a bigger heatsink, more powerful fan, or a better water block held the promise of a higher overclock; with 45nm this may no longer be the case.