Benchmarking Results
Intel Core2 Extreme QX9650 Overclocking Testbed
Processor
Intel Core2 Extreme QX9650
Quad-core, 3.0GHz, 2x6MB L2 Cache, 9x Multiplier, 1333FSB
Comparison Processor
Intel Core2 Extreme QX6850
Quad-core, 3.0GHz, 2x4MB L2 Cache, 9x Multiplier, 1333FSB
Motherboard
Asus P5E3 Deluxe / BIOS 0703
Memory
OCZ DDR3 PC3-14400 (DDR-1800) Platinum Edition
Memory Settings
7-7-7-15 (DDR-1600 ~ DDR-1700), 2N
Cooling
D-tek FuZion CPU water block
EK FC8800-GTX/Ultra full coverage GPU block
ThermoChill PA120.3 radiator
Dual Laing D5 pumps in series
1/2" ID (3/4" OD) Tygon tubing
6x Yate Loon D12SL-12 120x25mm fans @ 12v
Power Supply
Corsair TX650W
Video Card
MSI 8800 Ultra (660/1050)
Video Driver
NVIDIA ForceWare Release 169.12 (beta)
Hard Drives
2x Western Digital 150GB (RAID 0)
10K RPM SATA 3Gbps 16MB Buffer
Operating Systems
Windows XP Professional SP2 (2GB)
Vista Ultimate 64-bit (4GB)
No overclocking review is complete without sharing the results of some standard benchmarking suites. The 3DMark series of benchmarks, developed and provided by Futuremark, are among the most widely used tools for benchmark reporting and comparisons. We measure Intel Core 2 Extreme QX9650 general graphics performance using 3DMark06, and because results from Windows XP and Vista are considerably different, we include both.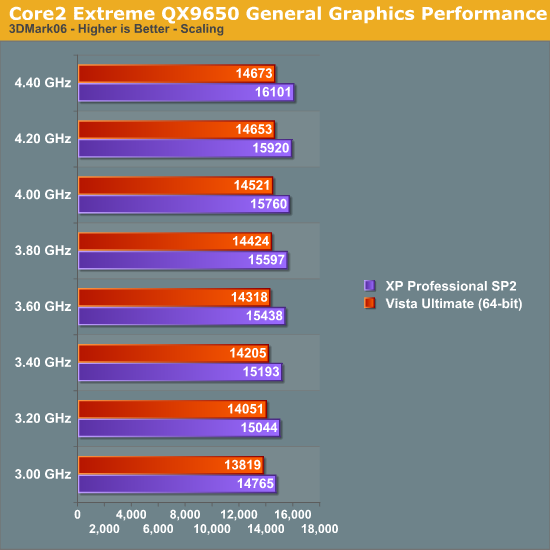 When we compare these results to those taken with a 65nm QX6850, we see clock-for-clock gains of less than 1%. However, the 45nm QX9650 is able to reach a much higher overclock of 4.4GHz, netting us enough improvement to push above 16,000 3DMarks without even altering our graphic card's stock clocks. At these speeds 18K+ with a single overclocked 8800GTX/Ultra is entirely within the realm of possibility (a score which we were in fact able to achieve).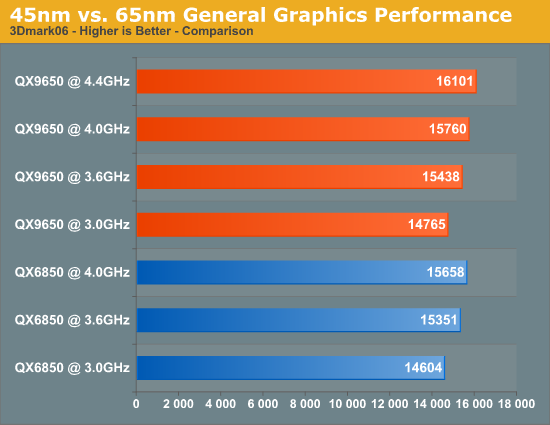 PCMark Vantage, Futuremark's latest system performance benchmarking suite, picks up where PCMark05 left off. Years in the making, this program offers the ability to test every conceivable aspect of total system performance either individually or all at once. Since Vantage only targets one operating system (Vista), we take advantage of the 64-bit executable included in the package running it in favor of the 32-bit file. Because Vantage (x64) is more of a complete benchmarking suite than the other tests we run, it makes sense that more than just pure CPU computing power influences results. For that reason, we have also shown the FSB settings used for each run. The additional memory bandwidth generated by the higher memory speeds does have an effect.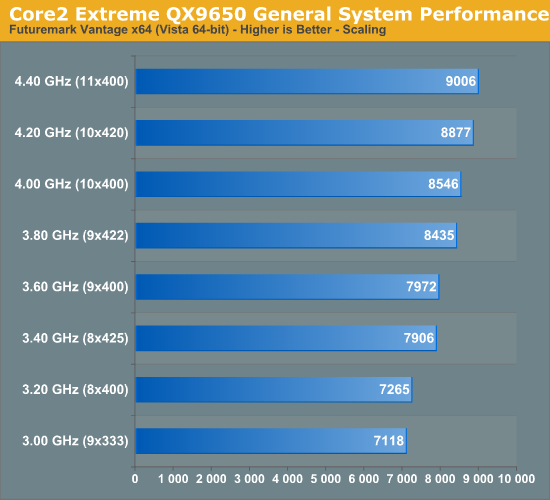 CINEBENCH R10 is another benchmarking program that performs radically different under both Windows XP and Vista. The developers at MAXON have done a tremendous job optimizing the code for 64-bit computing and it shows - unlike the graphics testing performed above, we find Vista maintains a clear advantage. As we can see, CINEBENCH R10 scales beautifully with additional cores and increased frequencies.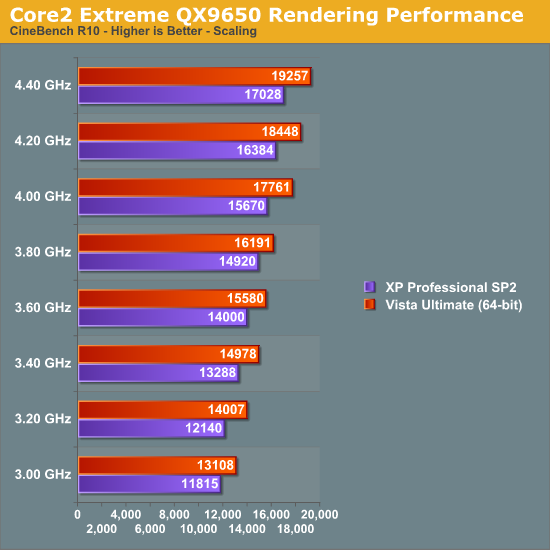 When placed together with results collected with a QX6850, the performance improvements offered by the QX9650 become immediately apparent. In this case, the Enhanced Core 2 processor is able to hold a commanding lead, thanks mainly to the massively improved frequency scaling.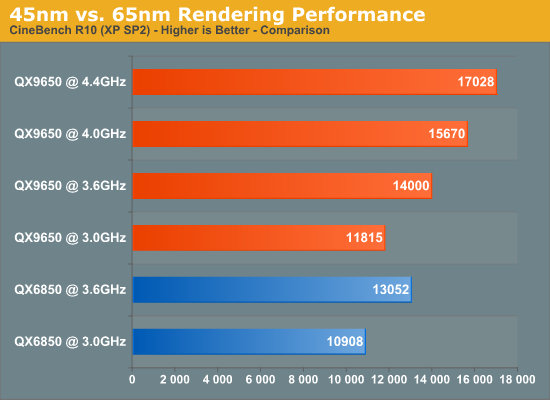 TechARP recently published a great x264 benchmark that essentially measures the time it takes a test system to encode a short, DVD-quality 720x480 progressive MPEG-2 video stream to a compressed, high-quality x264 file. Results are provided in the form of frames per second, and together with the known source file frame count it is possible to calculate the total encode time (shown below in seconds). The x264 CODEC makes very efficient use of multiple cores and is highly dependent on available processing power. As such, the benchmark makes a great choice for highlighting CPU performance. Although the CODEC does not yet include SSE4 optimizations, a new feature introduced with Penryn, the QX9650 has no problems making short work of our QX6850.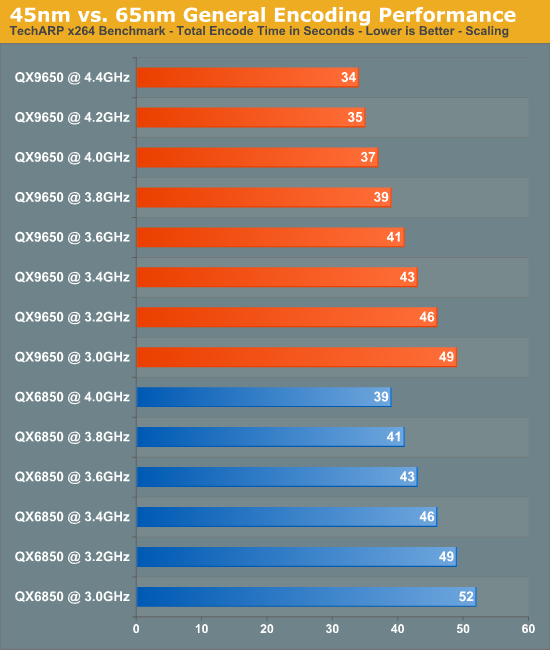 We hope to expand future testing to include real-world gaming results from some of the newest titles like Crysis, Call of Duty 4: Modern Warfare, Unreal Tournament 3, and Gears of War. Stay on the lookout for these results and others in our next look at the QX9650 when we pair this capable processor with the best motherboards companies like ASUS, Gigabyte, MSI, abit, DFI and Foxconn have to offer.