What resolutions do you need to be running?
If you're willing to spend over $1,500 on graphics cards alone, we're going to assume that you've already got a 30" display at your disposal. But in the off chance that you don't, will you see any benefit from having this much GPU power? We took a closer look at three of our benchmarks to find out.
Bioshock, the best 3-way SLI scaler we've seen today, paints a very clear picture. The 3-way 8800 Ultra setup is CPU bound until we hit 2560 x 1600, while the normal 2 card setup doesn't even come close to being CPU limited, even at 1680 x 1050.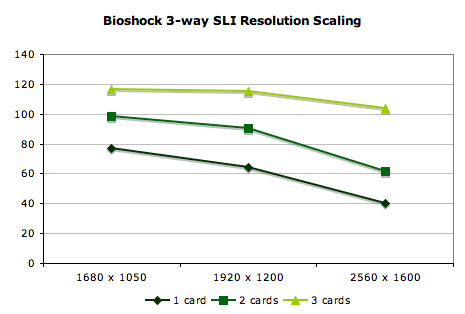 What this tells us is that as long as the game is stressful enough, you'll see a benefit to a 3-way SLI setup even at low resolutions, just not as much as you would at higher resolutions. Pretty simple, right?
Unreal Tournament 3 shows absolutely no benefit to adding a third card, and even shows a slight performance decrease at 1680 x 1050. It isn't until 2560 x 1600 that we see any performance difference at all between the two and three card setups.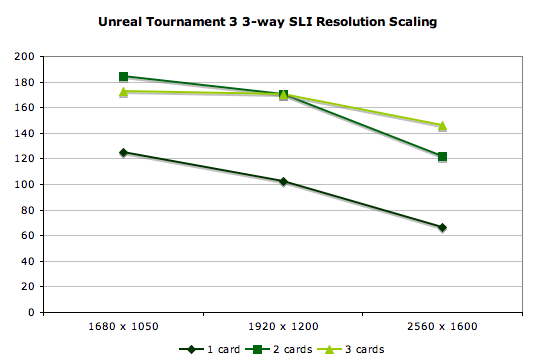 With Crysis we didn't adjust resolution, instead we varied the image quality settings: medium, high and very high. Just as with varying resolution, adjusting image quality settings increases the impact of 3-way SLI. Unfortunately where 3-way makes its biggest impact (very high quality), we're at an unplayable setting for much of the game.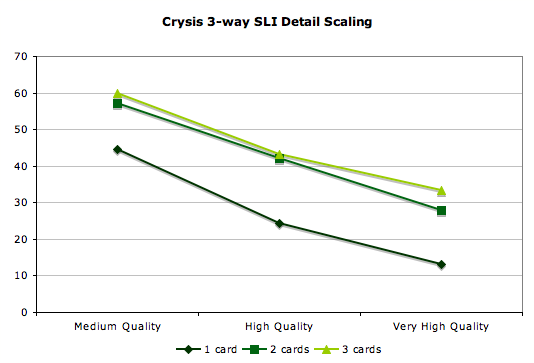 What sort of a CPU do you need for this thing?
We've already established that at higher resolutions 3-way SLI can truly shine, but how ridiculous of a CPU do you need to run at those high detail settings?
The theory is that the better a game scales from 2 to 3 GPUs, the more GPU bound and less CPU bound it is. The worse a game scales, there's greater the chance that it's CPU bound (although there are many more reasons for poor scaling from 2 to 3 GPUs).
| | | | |
| --- | --- | --- | --- |
| Clock speed | Bioshock | Oblivion | Crysis |
| 3.33GHz | 103.8 | 49.0 | 43.2 |
| 2.66GHz | 101.7 | 48.3 | 37.3 |
| 2.00GHz | 90.9 | 47.3 | 30.9 |
In Bioshock, the difference in performance at 2.66GHz and 3.33GHz is negligible, but once we drop the clock speed to 2.0GHz you start to see performance drop off. What this tells us is that even at mid-2GHz clock speeds, even a 3-way 8800 Ultra setup is GPU bound in Bioshock. And even at 2.0GHz, the 3-way setup is far from fully CPU bound as performance is still better than the two card system with a 3.33GHz CPU.
Similarly, Oblivion isn't CPU bound at all. Even at 2.0GHz, we don't see a significant drop in performance.
Crysis does actually benefit from faster CPUs at our 1920 x 1200 high quality settings. Surprisingly enough, there's even a difference between our 3.33GHz and 2.66GHz setups. We suspect that the difference would disappear at higher resolutions/quality settings, but the ability to maintain a smooth frame rate would also disappear. It looks like the hardware to run Crysis smoothly at all conditions has yet to be released.
We feel kind of silly even entertaining this question, but yes, if you want to build a system with three 8800 Ultras, you don't need to spend $1000 on a CPU. You can get by with a 2.66GHz chip just fine.