Test Setup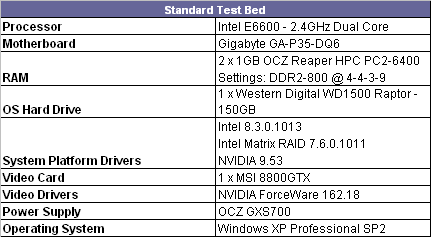 We are using an Intel E6600 dual-core CPU to ensure that we are not limited by computing power in our testing. We've used a 2GB memory configuration for these tests, but will soon be updating our test beds to a consistent 4GB platform due to current DDR2-800 pricing and upcoming game and application requirements. Our choice of budget level OCZ Reaper HPC PC2-6400 memory offers a very wide range of memory settings with timings of 4-4-3-10 used for our storage benchmark results.
The testbed uses an MSI 8800GTX video card and we run our tests at a resolution of 1280x1024. We run all of our tests with an enclosed case (in this instance, with the drives installed in the Muse R-Duo chassis) with a dual optical/hard drive setup to reflect a moderately loaded system platform. We fully update the OS and load a clean drive image for each platform in order to keep driver conflicts to a minimum.
We format the test drive before each test run and complete five tests on each drive to ensure consistency in the benchmark results. We drop the high and low scores and report the remaining (median) score. The Windows XP swap file is set to a static size of 2048MB and we clean the prefetch folder after each benchmark.
Our hard drive platform for this test is Seagate's Barracuda ES.2 1TB. This is the enterprise version of the 7200.11 drive that we already tested. Given the virtually identical performance characteristics of the two drives, we are confident in including the 7200.11 as a single-drive comparison platform.
Software Test Suite
With the variety of disk drive benchmarks available, we need a means of comparing the true performance of the hard drives in real world applications. Given that this is a review of a RAID product, rather than a pure hard drive review, we'll forego the gaming benchmarks in favor of some relevant RAID handling benchmarks. Our suite for this test will include:
HD Tach
HD Tune
Acoustics and Thermals
PCMark05

XP Startup
Application Loading
Hard Drive Usage
Virus Scanning
File Write

WinRAR
Windows Vista Startup/Shutdown
PCMark Vantage
RAID Rebuild Operations and Error Handling