AGEIA's Mod Pack & The Test
Unfortunately the PhysX situation in Unreal Tournament 3 is a little more convoluted than we would like. While the engine is capable of first-order physics using PhysX, because the game is not solely a technological showcase, there aren't any maps that ship with it that heavily utilize physics interactions. The game does use the PhysX libraries to run some physical simulations, but other than a handful of situations such as cloth simulations, there isn't much obvious physics work taking place. It's not the eye-candy feasts that we've seen with other PhysX hardware enabled games, but this is also a benefit: UT3's PhysX hardware support doesn't enable any extra eye-candy, it solely offloads the physics work to the PPU. This will be an important distinction going forward as we're going to be looking solely at issues of performance and not non-quantifiable (and performance-impairing) aspects of eye-candy.
AGEIA, apparently having taken charge of promoting PhysX on Unreal Engine 3, has been developing a mod kit to help modders/developers integrate physics situations in to their maps, and as a part of that kit has released a pair of maps that make heavy use of physical interactions as part of the gameplay. This makes UT3 straddle the line between being or not being a real/meaningful PhysX enabled game since as far as we know these are the only maps for the game that use first-order physics. This means that the biggest selling point for using a PhysX card with UT3 becomes the mod and not the game itself, but for the purpose of this article we'll take the situation as it's presented.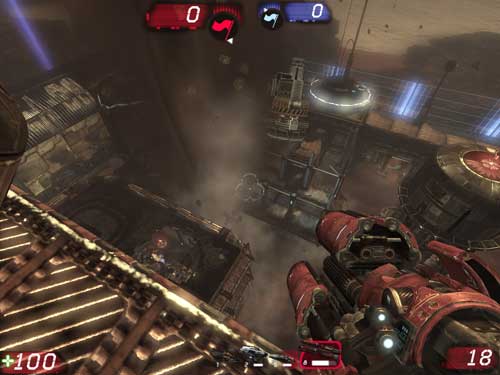 Along with our benchmarks of the shipping UT3 maps, we'll include both of AGEIA's mod maps in our benchmarks. The first map is CTF-Tornado, a map featuring a tornado that moves around unanchored objects, rips up some buildings, and sucks up unsuspecting players. As far as physical interactions goes this map is only moderately heavy, an intentional decision for allowing it to be playable without the PhysX PPU.
The second map is CTF-Lighthouse, AGEIA's crown jewel out of their map pack, making very heavy use of physical interactions. This map features numerous destructible walls and floors, showcasing the direction AGEIA wants to push developers to go with physics. It's also a pig of a map, as we'll see it's not playable at all without the PhysX PPU.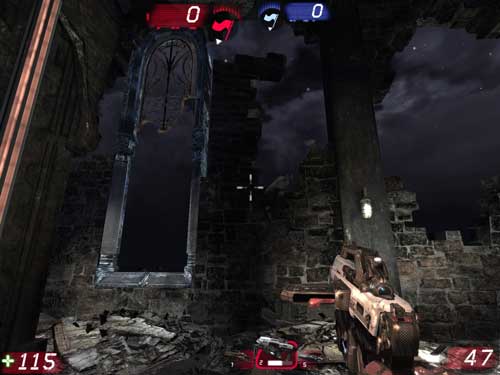 We've had to deviate a bit from our normal benchmarking routines, since UT3 does not support demo recording with AGEIA's maps, presumably because of the first-order physics used. Instead we've gone with botmatches for all of our tests (including the normal UT3 maps) which offer variable results but also run the full client physics simulation process, ensuring that we're capturing something fairly close to real world performance under repeatable circumstances. The use of bots means some CPU time is spent dealing with them, but given what we know about Unreal Tournament 2004's player statistics, playing against bots turned out to be rather popular, so we don't believe our results to be all that far fetched.
Every map we tested was run at 1600x1200 (our realistic scenario) and 800x600 (our anti-GPU bottlenecking scenario) both with the PhysX hardware enabled and disabled, on both a high-end QX6850 processor and a mid-range E6600. Varying all 3 processing components will allow us to reasonably isolate any bottlenecks in performance. All tests were run 3 times to reduce variability and the results averaged.
Software Test Bed
Processors
Intel Core 2 Quad QX6850
(3.00GHz/1333MHz)
Intel Core 2 Duo E6600
(2.40GHz/1066MHz)

RAM
G.Skill DDR2-800 (2x2GB)
Motherboard
Gigabyte GA-P35-DR3R (Intel P35)
System Platform Drivers
Intel 8.1.1.1012
Hard Drive
Maxtor MaXLine Pro 500GB SATA
Video Cards
1 x GeForce 8800GTX
Video Drivers
NV ForceWare 169.12
Power Supply
OCZ GameXStream 700W
Desktop Resolution
1600x1200
Operating Systems
Windows Vista Ultimate 64-Bit