Product Comparison - Efficiency
We have color-coded the background graphic to represent four classes of PSU. Category one is in the green and represents small to medium systems with a single lower power graphics card. The yellow range is for systems with a single graphics card, though possibly one of the more demanding models, as well as systems with a more powerful CPU (quad-core) and potentially more than one hard drive. The orange background is for systems with two graphics cards, possibly with a quad-core processor as well. Finally, we have the red category which is frankly very difficult to reach with normal home computers at the moment; serious overclocking, quad-core, and multiple GPUs can require this sort of power supply. This background will be used in future comparisons as well, and with the wattage figures as the X axis users will be better able to choose a power supply that offers high efficiency in the desired range.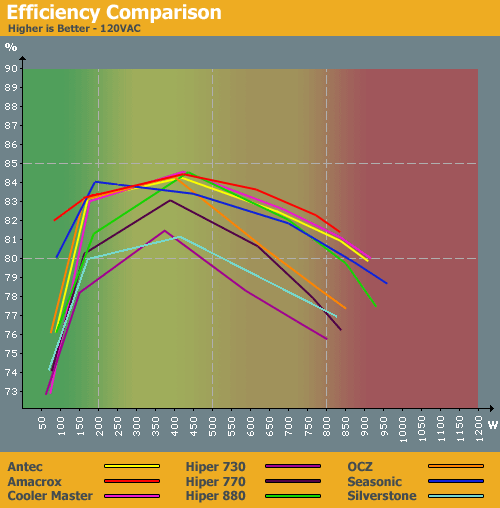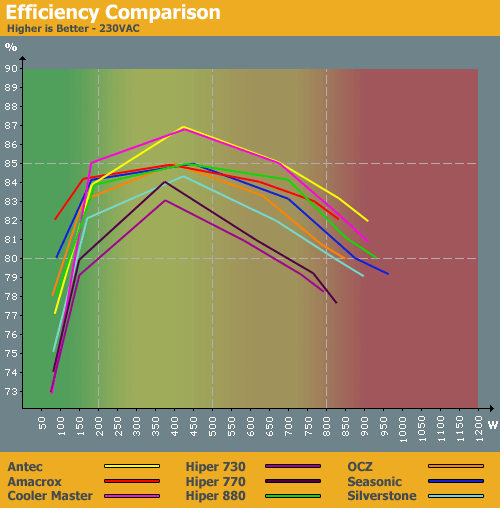 Obviously, if you are running a normal setup with a single graphics card you will not need any of the units we're testing today. If you are using a typical dual-core CPU with a moderate graphics card (without overclocking), you will not need a power supply with more than 400W max output. Your system will likely draw 75W-125W in idle mode (perhaps slightly less), and with higher-end power supplies like what we're testing today you would get a relatively low efficiency rating. Only systems that are regularly using more than 200W should even consider these 730W and higher power supplies.
The two units with the best efficiency results today are the Antec and Cooler Master models, which are both manufactured by the same ODM. Many of the other models show similar results, reaching near 85% efficiency. The OCZ ModXStream 850W and the Hiper 730W and 770W take the bottom three curves at 120VAC; the Silverstone unit is also near the bottom on the 230VAC chart.