Back in September we published an early first look of the ASUS P5E3 Deluxe motherboard. Based on the Intel X38 chipset, this feature-rich board provided us with the promise of good things to come. Unfortunately, rumors surrounding Intel's unexpected problems with the production and distribution of their newest performance desktop chipset were correct and prevented us from going into much more detail. We ended our preliminary examination with the promise of revisiting the board at a not-so-distant date. Our hope was that our patience in the matter would ultimately bestow upon us - first-hand - the benefits of more mature BIOS releases.
Regrettably, not much has changed in regards to the performance of the X38, although the last few weeks have given us the chance to thoroughly explore the BIOS and map some of the rather elusive feature options to improve performance. At this stage, we are finally comfortable with the X38 chipset and believe it has plenty of hidden performance potential if you know where to look for it. In truth, ASUS has given considerable attention to improving the board's BIOS functionality, but quantifying these differences can be a challenge.
In the end, it is difficult to unlock massive amounts of hidden performance when it's just not there. One thing's for certain though, motherboards based on the X38 chipset that make use of older DDR2 technology will never reach the same levels of performance we are starting to see with the DDR3 boards. A quick scan of current DDR3 memory and motherboard prices should be enough to convince just about anyone that upgrading today is serious business.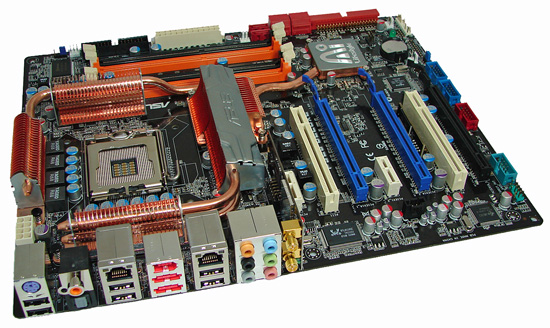 The last few weeks have presented many enthusiasts with the opportunity to catch their breath; having just experienced the P35 launch last spring, they now have to decide whether to go the X38/X48 and DDR3 route. Deciding whether to make the change to DDR3 is not very difficult: you can afford the buy-in, or you cannot. Given the choice, especially considering the rate at which DDR2 prices continue to plummet, it should come as no surprise that a large majority of users will probably find themselves in a rather favorable situation - one in which the benefits of staying with DDR2 for a little while longer make too much sense to move at this point.
Of course, it's fair to point out that it is common for the market to endure a period of significant buyer hesitation associated with the adoption of new products or technology - usually attributed to a general unfamiliarity with the benefits that come from purchasing the new technologies. As bleeding edge enthusiasts carrying enough credit card debt to send the stock market spiraling downward, we find it hard to stick with DDR2, even though this would be the wise decision at this point. However, after using DDR3 for the past few months, we find it difficult to go back for several reasons, the primary one being our ever-increasing thirst for improving the performance of our shiny new Penryn based processors.
True to fashion, ASUS has once again taken center stage, having worked hard to deliver the P5E3 Deluxe quickly into the hands of salivating enthusiasts. Competition for the title of "world's greatest overclocking motherboard" is fierce, often times having no clear winner. The measured performance margin between close competitors is frequently trivial enough that the tough decision regarding which board to buy comes down to nothing more than personal preference, even brand loyalty. This particular performance segment is exceedingly narrow though, as the number of DDR3-flavored X38 boards for the overclocker is limited at this time.
Those that find themselves entirely unfamiliar with the ASUS P5E3 Deluxe general feature set would do well to check out our
first look
at this capable board. This time around, we will be taking a detailed look at overclocking capabilities, specifically memory scaling and the effect on overall performance. Before we do this though, let us take a second look at the general board features and layout. We will also point out a few of the hardware features ASUS includes in an effort to improve the motherboard's ability to deliver a strong and stable overclock for Intel's latest processors.