Socket-AM2+, Not So Positive?
When AMD first started talking about Phenom it boasted backwards compatibility with current Socket-AM2 motherboards, as well as a new Socket-AM2+ platform that would enable higher performance and better power management.
We are currently looking into Socket-AM2 motherboard compatibility, but not all vendors have Phenom-ready code for their motherboards as of today. While Phenom should work in virtually all Socket-AM2 motherboards, it's tough to say which will work by the time you can actually buy these things.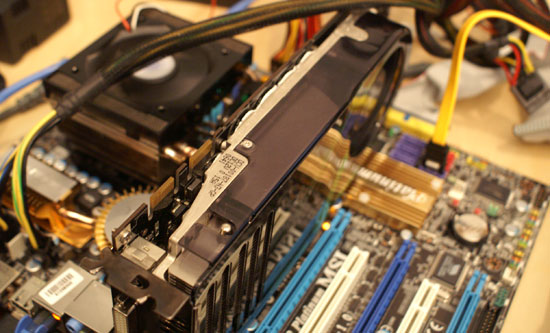 AMD's Spider platform, well, minus the graphics card - the 8800 GTX is still our testbed GPU of choice.
Socket-AM2+ motherboards, most of which are based on AMD's new 790FX chipset, were supposed to bring a tangible performance increase when paired with a Phenom processor. Phenom's L3 cache and North Bridge work on the same power plane, one separate from the rest of the CPU. Socket-AM2+ enables the use of two separate voltages, one for the L3 cache/NB and one for the rest of the CPU, whereas Socket-AM2 motherboards run the entire chip at the same voltage. The original plan was for Socket-AM2+ motherboards to run the L3 cache/NB at a higher frequency than the rest of the chip, unfortunately it looks like AMD wasn't able to make that happen.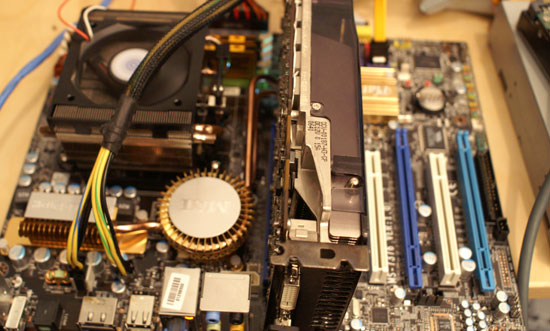 Socket-AM2+ in action
Currently, the L3 cache/NB on these chips runs at a fixed frequency that's actually lower than the rest of the CPU frequency: 2.0GHz. We tested Phenoms running from 2.2GHz all the way up to 2.6GHz, and in all cases the L3 cache and North Bridge ran at 2.0GHz. We're not sure if this will ever get fixed, but it's somewhat disappointing as it was supposed to be a major reason for upgrading to Socket-AM2+ (but it's good news for current AM2 owners).
Right now it looks like the only benefit to Socket-AM2+ is support for DDR2-1066, which we've been having problems with internally already. If you've got a good Socket-AM2 motherboard, you may not need to upgrade to get the most out of Phenom.