Air-Cooled and Subzero Benchmarks
ASUS Maximus Formula
Overclocking Testbed
Processor
Intel Core 2 Duo E6850 - G0 Stepping
Dual Core, 3.0GHz, 4MB Unified Cache, 9x Multiplier, 1333FSB
CPU Voltage
1.300V Base
Cooling
Various - Tuniq Tower, Dual Rotary Cascade
Power Supply
PCP&C 1200W
Memory
OCZ Flex PC2-9200 (2x1GB)
Memory Settings
4-4-4-12 (DDR2-1066)
Video Cards
MSI 8800 Ultra @ 702/1205, EVGA 8800 GTX 830-861/1000
Video Drivers
NVIDIA 163.75
Hard Drive
Western Digital 7200RPM 250GB - WD2500KS
Optical Drives
Plextor PX-755A
Case
Dimastech benching table
BIOS
ASUS 0505
Operating System
Windows XP Professional - SP2
.
ROG boards are designed to be raced (the extreme voltage ranges in BIOS hint at this), after "realist" testing. Any performance review is incomplete without taking at least a small benchmarking test drive with the pedal to the metal. We decided to find out just what the board would do with a "handpicked" E6850 CPU that is capable of high FSB speeds. Using air-cooling we managed to boot at 550FSB (3.85GHz), but did not manage to hold Super PI 32M stable using the 400 strap and 1:1 divider with 4-4-4-10 memory timings. We settled for 540FSB (3.78 GHz), again with the 400 NB strap using the 1:1 divider. Here are a few benchmark results:
E6850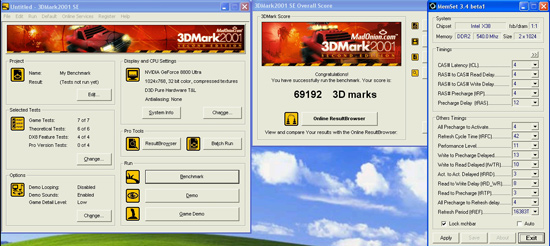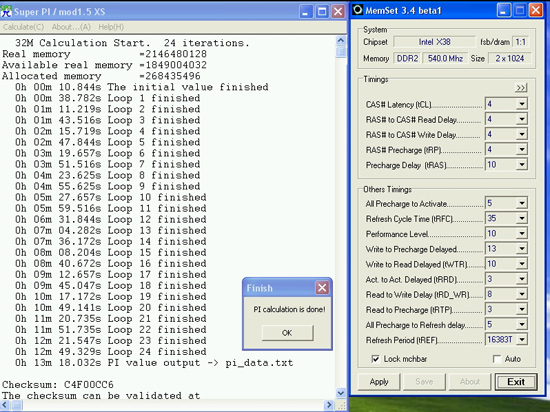 Using cascade cooling on both the CPU and GPU allowed benching in the region of 550-560FSB using the 9x multiplier. tRD (Performance Level) had to be set quite loose at 11-12 to provide stability for the benchmarks to pass. This is another area where ASUS is implementing core BIOS level changes to improve stability and memory performance in the higher FSB ranges. The DFI P35 board also reached 550FSB with this CPU but we were not able to hold the 550FSB level over the course of testing. We had to back off to the 540FSB range. This is the one key difference we have noticed between the two chipsets, the X38 will hold a higher FSB level over the course of extreme benchmarking than the P35.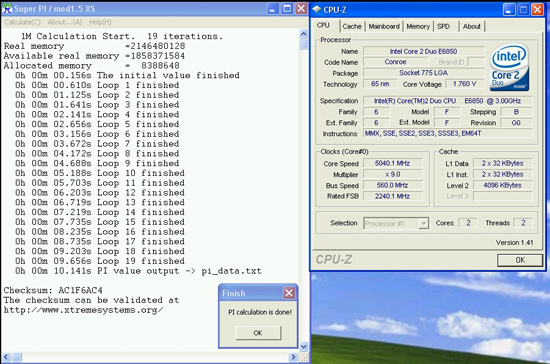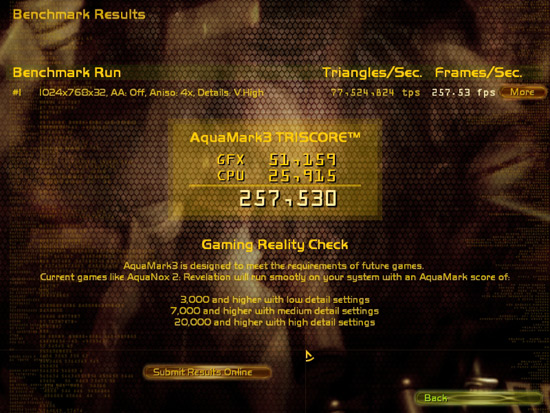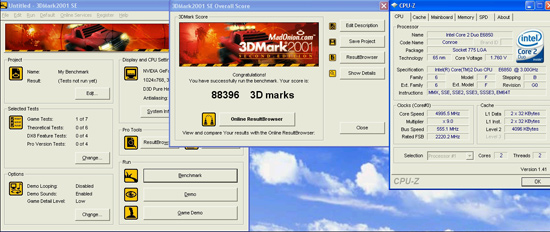 QX6800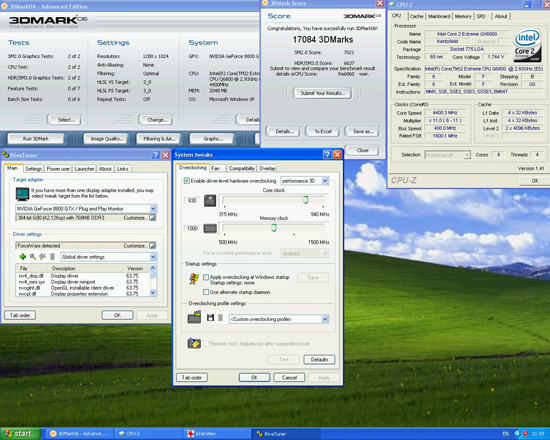 The Maximus Formula is certainly capable of holding high FSB/CPU MHz levels for extreme benchmarking. We also gave our cold bugged QX6800 G0 a little test spin with four cores active for a 3DMark06 session; unfortunately we were limited to around a 4400MHz CPU speed. This is not a problem with the motherboard; the CPU itself has been tested on many different boards with the same CPU MHz wall. These results surpass our DFI P35 slightly, indicating to us that the X38 is finally starting to mature and this board is a solid choice for overclocking, especially with a dual-core processor.