Corsair 450VX 450W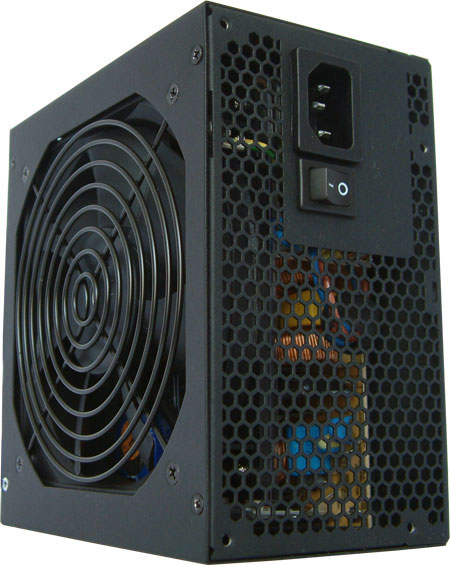 The 450VX Corsair is another power supply based on the same basic power supply as the Antec Earthwatts, a fact that will become clear when we crack open the housing. However, unlike the Earthwatts, Corsair chose to use the exact same housing and black paint job as the original Seasonic unit, and they use a 120mm fan located on the bottom of the housing. The length of the power supply is 140mm, allowing it to fit in most PC cases. The packaging is quite good and the power supply comes wrapped up in a little bag - not necessarily as environmentally friendly as other options, but there's a good chance shipping won't cause any damage to the PSU.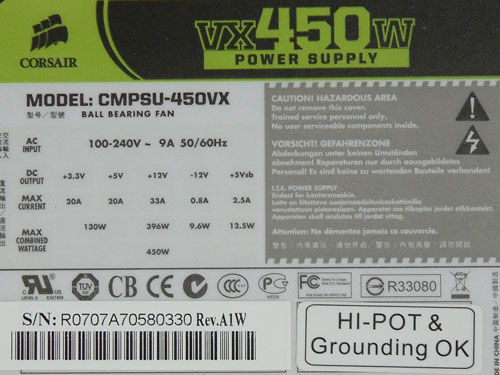 The 450VX comes with a single 12V rail rated at 33A. The original design used two 17A 12V rails (as does the Earthwatts), but given the lower total wattage the single 12V rail may make for easier power management - there's no need to worry about whether you're overloading one rail and not using the other rail enough.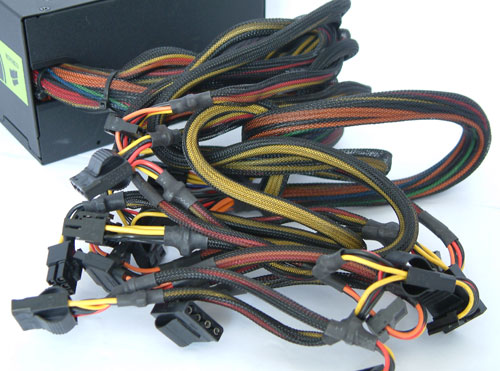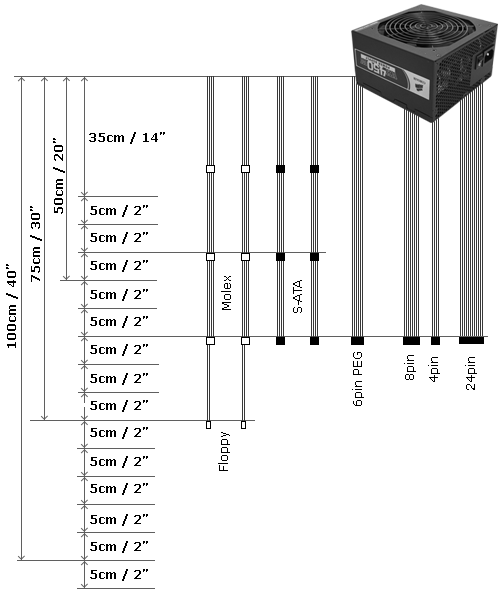 All cables come with sleeving, even between the connectors, so despite the moderate 450W rating we can expect the cost to be somewhat higher than competing models. The main 24-pin ATX cable is 60cm long, which is good for some of the larger cases. There are six Molex and six SATA connectors on four cables with a maximum length of 60cm. The first connector is only 30cm from the power supply, which might be a bit close to the PSU for some peripherals, but unless you plan on using all six connectors this should not present a problem. The maximum length is the bigger concern here, and it might prove difficult to reach the bottom drive bays on a full-size tower case if the PSU is located at the top of the box.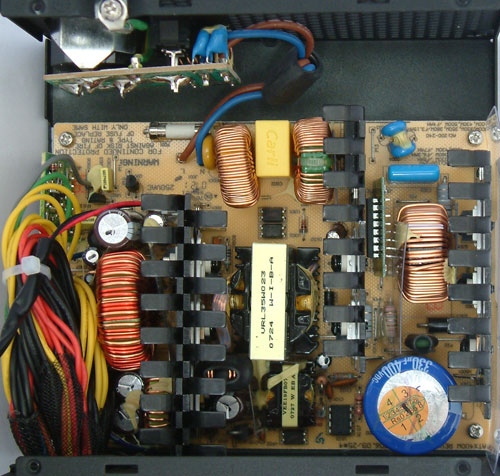 The inside looks quite empty, as is often the case with these smaller power supplies. It is not necessary to have as many components -- or as large of components -- considering the smaller amounts of current passing through the PSU. The heatsinks are quite small, but higher efficiency should help to keep heat levels down. Hitachi makes the primary capacitor, rated at 330µF with 400V. The fan blows air directly at the circuit board and heatsinks, which should easily provide adequate cooling.