Antec Earthwatts 430W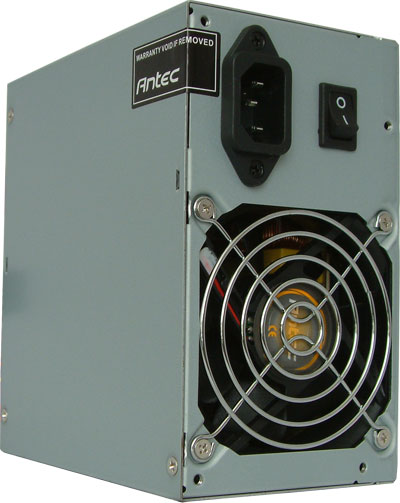 We begin with the Antec Earthwatts 430W. Antec's Earthwatts series first became available around a year ago, with the "earth" in the name apparently there because the product is more environmentally friendly. The design and appearance of the Earthwatts 430W bring us back to a time when nobody was asking about shiny coatings and sleeved cables. The housing is a simple grey color, similar to what we see on OEM power supplies. The back has the expected AC jack and a power switch, along with an 80mm fan that provides cooling. This is a different approach to cooling than what we'll see with the other units in this roundup.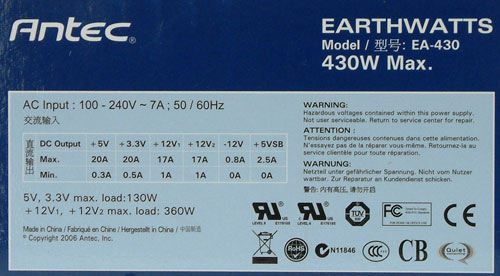 The label provides the typical information we find on power supplies, with the expected figures for a 430W maximum output. Two 12V rails of 17A each are enough for most users, and the combined 12V power of 360W is quite acceptable. 360W combined equates to 15A when both are "fully" loaded. We would be hesitant to try to use this PSU with one of the top-end graphics cards, but if you're using a power supply with a single 6-pin PCI-E connector you should be fine.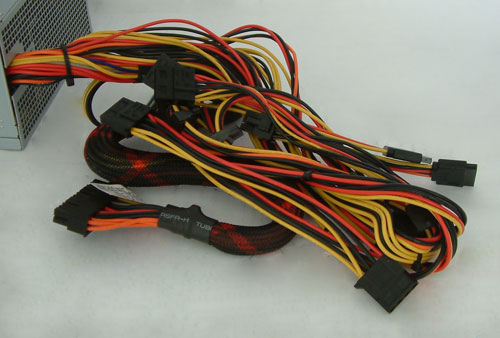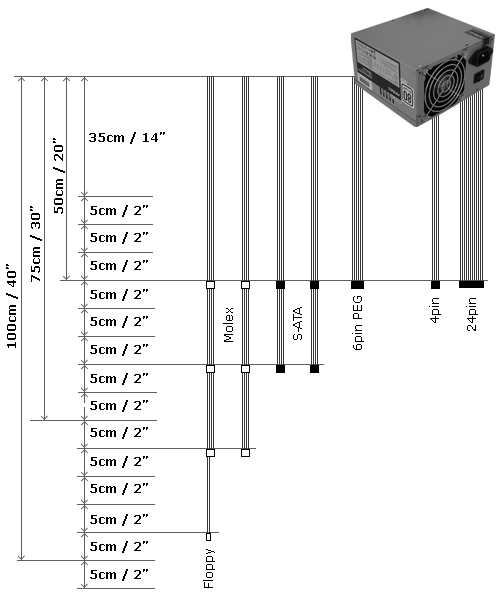 Other than the main 24-pin ATX power cable, the cable-harnesses are sleeveless. Antec has taken a very simple approach in terms of appearance, and the only concession to keeping the cables tidy is the use of cable ties located over the length of the cables. The length of the harnesses is average, with the last Molex connector just 80cm distant from the power supply. The main connectors are all on 50cm cables. The quantity of connectors could have been better, but a normal midrange PC shouldn't require more than what Antec has provided. There is only one 6-pin PEG connector, which makes sense considering the overall wattage and target market.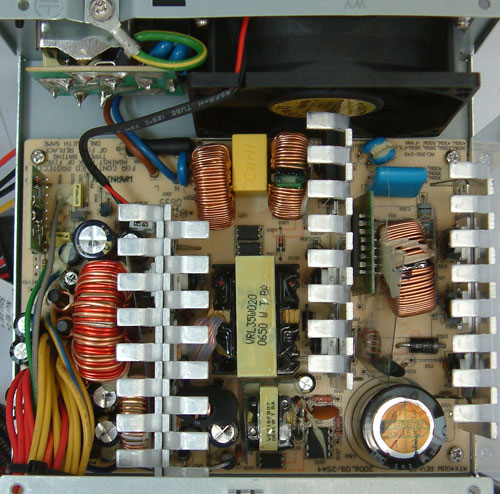 The inside looks quite familiar to a couple previously tested power supplies; indeed, the same manufacturer produces this power supply as well. Of course, that doesn't mean the power supplies themselves are actually the same. There are several differences, and we expect this unit will be at a slight disadvantage. Antec uses an 80mm exhaust fan located at the rear of the power supply, but the heatsink design would normally use a 120mm intake fan. We expect this unit to be slightly warmer and/or noisier than similar designs that use a single 120mm fan. Nippon Chemi-Con manufactures the primary capacitor