Introduction
While we've reviewed many higher-end (and higher-cost) power supplies, we've neglected the lower power segment. We hope to address that omission with today's roundup of four units ranging from 400W to 450W. Not many manufacturers these days make units rated at less than 500W - especially if we're talking about high-quality power supplies. Seasonic - both on their own and as an OEM manufacturer - is one of the few companies that continue to supply this market segment. We recently tested Seasonic's
330W and 500W models
and found they were more than capable of powering most decent systems. There are far more midrange and lower systems on the market than high-end systems, so we thought it prudent to look at several competing models from other companies.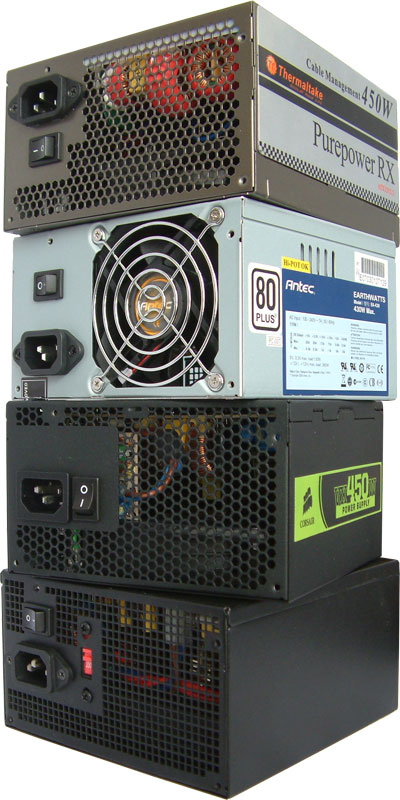 The type of components used in a computer determines the power requirements for the system. If you want to build an extreme performance, highly overclocked computer then you will need a large (and high-quality) power supply. On the other hand, if you're mostly going to be doing office work, most of the "best" power supplies are complete overkill. In fact, even most higher-end systems rarely require more than 500W of power. So why do we have these 1000W+ PSUs? In a word: profit. Assuming you're not going to be running multiple graphics cards or a significant number of hard drives, one of the power supplies we're looking at today -- or something similar to them -- should be ideal.
Because of the potential for greater profits, power supplies with lower ratings are getting rare -- not many manufacturers that want to produce these units anymore. We talked to Silverstone not too long ago about a 300W version of their Element series. The conclusion was that the price for the production is similar to higher-end power supplies and it wouldn't make sense to build these power supplies anymore. That seems surreal when we think about the number of users that don't need more than 500W, but it appears that the minimum price for a quality power supply -- regardless of wattage -- has bottomed out at around $65. That's not to say you can't find cheaper power supplies out there, but the quality of such units is at best... suspect, as we will see shortly.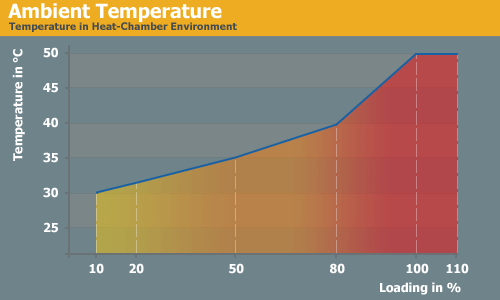 As usual, we are testing with our Chroma programmable loads to load each rail to a specific amount. This is important to get truly accurate results and not merely approximate values. We conduct tests in two different temperature environments. One is normal room temperature of 25-26°C, while the second environment goes from room temperature and increases steadily up to 50°C. Especially during the higher temperatures we will see how good the power supplies are and what whether or not they're truly worth your hard-won clams. Components inside will perform much worse at higher temperatures, but we expect any good quality PSU to deal with such test conditions without failing.
On the DC output graphics, we show the range of highest and lowest voltage. There is usually a bit of variance, particularly with multiple 12V rails, but with a PSU roundup we want to convey as much information as possible without simply bombarding our readers with graphs and charts. In essence, we will show the voltage range on each rail at various load points. This is especially easier to read and understand when you have multiple 12V rails since we will show them all in one graph together.
Note: If you would like to know more about our testing methodology, equipment, and environment, please read our PSU testing overview.